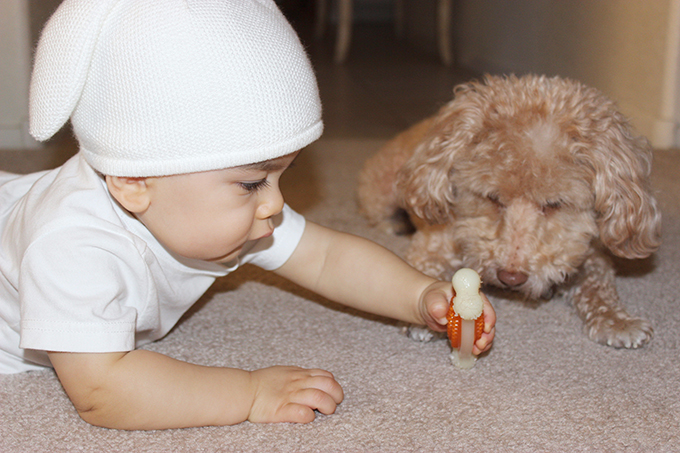 We All Have Motherhood Screw Ups
Mistakes and mishaps are inevitable during motherhood. In fact, I feel that my new role of mom is a constant reminder that I am not perfect and I am unable to control everything.
This morning I woke up with the intention of making today great, but I was quickly shot down when I set my son down in his two door play yard and walked into the kitchen…. A few minutes later my heart sunk when I glanced over to an open play yard door and no baby. I had set him down not realizing the door was unlocked and open. Luckily my back door was not open and the dogs were put away. My nine month old was safe, but he had found his way to the dogs food and water…. Gross!
Marisa — Mom of Mikey
Never underestimate the extra pair of clothes in the diaper bag rule!
Every time I leave my house, I go through a mental checklist while packing my diaper bag. While diapers, wipes, and food are high on the list, an extra change of clothes for the baby weren't…until now.
My husband and I were invited to my husband boss' house for dinner and I couldn't wait to show off our new little one. Mid-dinner our baby pooped through her whole outfit. I could have really used a change of clothes instead of having to cut dinner short and go home with a semi-naked baby!
Always expect the unexpected and always be prepared. As I'm sure you already know, you can't plan anything with a baby.
Stacie — Mom of Audrey
This summer we spent a lot of time in the Midwest at our cabin. It was the first time we tried using swimmer diapers for Sophie while not in the lake. We ran out of her regular diapers, and thought, "Why not? They should work until we can get more diapers in the morning."
Yep… we definitely found out the hard way. We woke up to Sophie crying with pee that not only went through her swimmer diaper but onto the crib sheets, as well. Lesson learned.
Jessica — Mom of Sophie
Please feel free to comment with one of your screw ups. Hey, we're all human — it happens….