There are a lot of choices to be made when you are a mom – breastfeeding or formula, pacifier or no pacifier, co-sleeping or crib, baby wearing or stroller…the choices are endless. One big choice moms have to make is how they are going to handle diapers. It seems like everyone you know has a strong opinion about cloth diapers vs disposable diapers. Today I'm going to give you some information about both cloth diapers and disposable diapers to help you decide what will work best for your baby.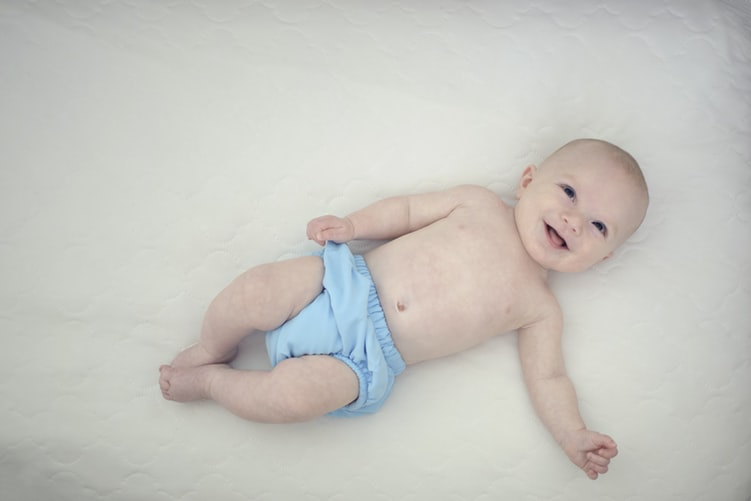 Cloth Diapers vs Disposable Diapers
When my daughter was born, I was getting a lot of advice about diapers. While all of it was probably well-meaning (even though the advice often felt like demands), some of the advice was woefully out of date or just didn't really fit my life. Both kinds of diapers have changed a lot in recent years, and I found myself having to educate grandmas and aunts about how things work today (see also: putting your baby on their back to sleep instead of their tummy).
What You Need To Know About Cloth Diapers
Cloth diapers are a classic choice. I always thought of cloth diapers as just a piece of cloth that you had to attach with safety pins, but that isn't the case now. A cloth baby diaper can come either as pre-folded pieces of cloth liners or as an all-in-one (a diaper and cover that looks similar to a disposable diaper). Depending on the cloth diapers you buy, you can get cloth diapers with velcro or snaps, so you don't have to worry about sharp pins. You can also find cloth diapers in cotton, terry cloth, or flannel.
With cloth diapers, you are making a larger investment up front, but they can be less expensive over time than buying disposable diapers. You might need to try out several brands or styles to find the cloth diapers that are the best fit for your baby, so you will want to plan for that extra cost in the beginning as you test out different options.
While it's great to be able to reuse cloth diapers, there are some cons. Even with the velcro and snaps, they can be more cumbersome to change, unless you use the all-in-one cloth diapers that are more expensive. It can also be harder to get exact fits. Cloth diapers are also messy. Some of them actually come with disposable liners that make them easier to clean. If you aren't using disposables when you are out and about for the day you will find yourself carrying wet and poopy diapers back home with you. And if you aren't using a diaper service, you will also find yourself doing a lot of extra laundry – probably two to three extra loads per week — which translates to higher water use and higher water and electricity bills.
Finally, contrary to what my well-meaning mother in law tried to tell me, some babies experience more diaper rash or more severe cases of diaper rash, because cloth diapers don't absorb moisture the way disposables do. You can't use most diaper rash creams and ointments with cloth diapers, either. This doesn't mean that you will definitely have more issues with diaper rash, though. To avoid this, you will change more diapers each day while using cloth than you would with disposables.
What You Need To Know About Disposable Diapers
Disposable diapers are easy to use. You choose a size based on your baby's weight and age for best fit. You will still need to test out a few different brands and styles, and should know that as your baby grows you might find that the brand that used to fit best is no longer working, and you will need to change to a new one. I found that supermarket brands often worked just as well as the more pricy name brands.
Disposable diapers are more convenient when you are traveling, because you can toss the dirty diapers without having to carry them back home. And you will have less diaper changes during the day due to the ultra-absorbent inner liners that keep wetness away from your baby's skin.
There are some cons to using disposable diapers. Let's start with the most obvious – disposable means you are sending all of those diapers to landfills. In the past, there was very little decomposing when it came to disposable diapers. Now there are some choices that are up to 40% biodegradable, which is hardly perfect but is progress. Another consideration is the chemicals and materials used for disposable diapers. If you are concerned about that, there are natural brands that avoid harmful chemicals and source sustainable ingredients.
Finally, the super absorbency of disposable diapers can make potty training more difficult, because toddlers are less likely to feel wet and uncomfortable, they aren't as motivated to get out of their diapers.
My advice? Try both and see what works best! You might find that your family will only use cloth or only use disposable diapers, or you might find that a combination of both is the perfect solution. You are going to be doing this diaper thing for a while, so don't be afraid to make a new decision about diapers as your baby gets older. What works now might not be the best fit for you in six months or a year.
Tracie