As I was getting close to my due date I spent countless hours on Pinterest and the internet researching what the perfect hospital bag would require. Pinterest and Instagram are full of adorable mommy/baby matching robe and swaddle set that make for the perfect hospital pictures. I had three lists printed out from online resources with advice from moms, nurses, photographers, and people like me that are full of opinions telling me to pack everything from speakers to socks.
Three weeks before my due date and I had a saved Amazon cart that I would add new items to daily with an ongoing total of hundreds of dollars. Before I hit the checkout button I wanted to make sure I wasn't forgetting anything so I asked my doctor what I needed in my hospital bag. Her response was priceless! She told me, "Nothing! You're not moving in just some baggy yoga pants to go home in. People have been having babies for hundreds of years just showing up. The hospital has everything you need."  My husband about died knowing I had spent hours researching the perfect hospital bag. I know deep down inside he really wanted to high five her and thank her for saving him so much money. I thought they were both crazy and thanks to Amazon Prime I knew I still had two more solid weeks of shopping to fill up my perfect hospital bag.
To my surprise my baby girl caught me off guard and unprepared when she came two weeks early. The day she arrived I had a regular weekly doctor visit scheduled when I was having what I thought we aggressive Braxton Hicks. This being my first child I had no idea what the difference was. My doctor sent me straight to the hospital as I was dilated to four centimeters and in active labor.
My husband was rushing to get me to the hospital and the only words out of my mouth were, "But my hospital bag isn't packed yet and I want a Hot and Ready Nacho Cheese pizza before we go to the hospital!" Having gestational diabetes my biggest fear was not being able to eat for a long period of time and throwing off my glucose level if I had a long labor. I also had been craving a slice of Nacho Cheese Pretzel Crust pizza I had been seeing for weeks on the commercials but was on the do not eat list.
My husband thought I was nuts when I was willing to forfeit going home on the way to the hospital to pack a hospital bag in order to get my pizza. So, his buddy delivered my pizza to the house while my husband packed our hospital bags trying to get every item on the three lists in two bags as fast as possible. We showed up to the hospital and I was begging for my epidural with our two bags overfilled with crap, meanwhile the lady behind me calmly showed up with her husband and two nicely packed rolling suitcases. For a second, I was so envious because I could bet my husband forgot to pack the lavender scented flameless candles on the list, but 30 seconds later my next contraction came and I was quickly over their well-organized hospital bags. Needless to say, my husband, my baby, and I all survived our two-night hospital stay just fine.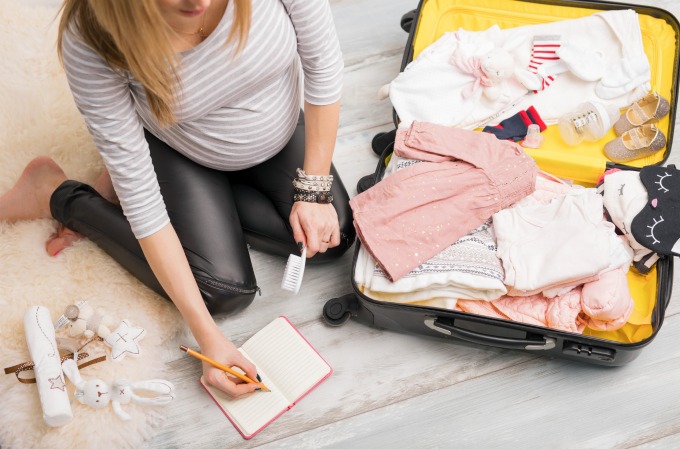 The Minimalist Guide To Packing The Hospital Bag
Looking back, I wish I would have put more energy into making sure my house was better prepared for having a baby two weeks earlier than the silly hospital bag. I wish I would have painted the hallway that had been bugging me. Re-caulked the stairs that still drive me crazy every time I go up and down them. I wish I would have bought newborn shirts with hand covers on them so my baby wasn't scratching her face the first night I brought her home. The list goes on and on of things that could have taken priority over the stress of the perfect hospital bag. In reality my doctor was right the hospital had everything I would need. So if I had to do it all over again this is the list of things I would pack.
Things the hospital DOESN'T provide
Zip up hoodie: Easy for nursing and kept me warm.
Nursing bra: Don't wait to buy one till after the baby is born thinking you won't know what size you are. You will need one right away and the first chance you get to leave the house you will need it to hold the nursing pads because chances are you will leak before you get home.
Nursing pads: I like the reusable cotton ones for comfort. Your nipple can get pretty chapped and the softness of the cotton feels so much better. Plus it's better for our planet.
Nipple Cream: This technically goes under the list of what the hospital provides but it fits the flow of catering to your booby needs. The one the hospital will provide will probably have lanolin. Some people don't want to use Lanolin because they are vegan or don't want it because sometimes the sheep are sprayed with pesticides, and the chemicals end up on the lanolin oil. So, if you don't want to use the one the hospital provides you or not sure they provide you with some, bring your own. Do yourself a favor and use the nipple cream from the very start, don't wait for your nipples to get irritated or chapped before you start using it. That was the biggest mistake I have made to date.
Nursing pillow: If you plan on using one at home take it to the hospital so the lactation specialist can teach you how to properly nurse with or without it.
Breast Pump: Have the lactation specialist show you how to properly pump. Placement and sizing of the attachments can get tricky. They can also go over a proper pump schedule with you based on your nursing and storing goals.
Face wash: I have a confession to make, I didn't wash my face for the two days that I was at the hospital but maybe if I would have had my face wash I might have washed my face.
Hair brush: I survived just fine without brushing my hair, but again if I would have had my brush with me I might have brushed my hair a couple times.
Yoga/lounge pants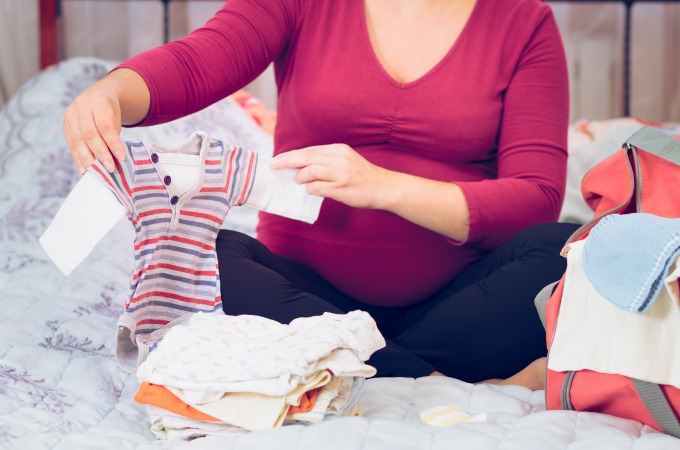 Things the hospital DOES provide
Pillow: Hopefully you will have an easy delivery and only need to stay for two nights, however if you need to stay longer or you sleep better with your own pillow, make sure you don't forget to bring your own pillow.
Soft fuzzy throw blanket: Something about the hospital blankets just never keep some people warm. So if you're like me and always cold pack a throw blanket.
Socks: I wore my socks and they gave me a pair of non-slip hospital socks that I wore over my own.
Fully booty underwear: The hospital provides and actually charges you for supplies like the afterbirth lady part care. They are made of mesh and great for the first night, however, I did wish I would have bought some dark cheap fitted underwear. The mesh underwear were big and some people like everything to feel secure and in place.
Overnight heavy flow pads: The hospital will supply you with more than enough pads, however if you have a preference in brand or want the chemical free pads, take your own.
Perineal spray: If you want an herbal chemical free spray bring your own, otherwise they will have this and the Tucks medicated pads for you at the hospital. I thought I would use my own however, my husband didn't know what the herbal vagina spray was on my packing list, trust me after giving birth I was very compliant to what the nurse was telling me to put on my lady parts.
Toothbrush and toothpaste: Bring your own if picky about the type of toothpaste you use.
For your baby:
Newborn long-sleeved button shirt with hand folds: The hospital will have some for your baby but they don't give them to you. So if you are particular about your baby wearing used clothes bring your own. Be sure to wash them if you purchase your own before you put them on your baby.
Formula If you plan on bottle feeding or in case your baby won't latch and you want your own brand if you are wanting something organic or plant-based.
For your partner:
Have your partner pack their own bag as if they were going away for the weekend. It's a nice gesture to try and pack a bag for them but don't stress yourself out trying to anticipate what they will want to have.
In retrospect, my doctor was right I really didn't need much. I didn't even need snacks or the roll of quarters I got for the vending machines, you can order room service anytime you want and hospitals have a food court of some sort where guests can purchase food and snacks with a credit card. So, if you find yourself stressed out over your hospital bag, relax my friends, even if you just showed up with absolutely nothing, the hospital will provide you with everything you will need.
Pilar – New Mom