All of you Sleepless Moms know that I love things you can do while you are on the go. Moms are busy, and we often don't have enough time to finish all of the things we need to do. So here is my new secret – teeth whitening on the go!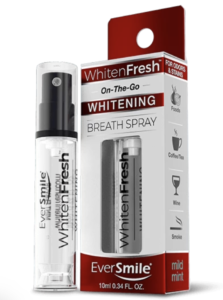 Teeth Whitening On The Go With EverSmile
I've found the perfect spray that you can use multiple times during the day to freshen your breath and whiten your teeth. The best part is no sticky strips that you have to wear for a specific amount of time and no gooey gel.
The EverSmile WhitenFresh spray kills the bacteria that causes bad breath and tooth decay. You simply spray it on your teeth, spread it around a bit with your tongue, and swish. It's that simple. WhitenFresh uses a low dose of hydrogen peroxide, so it doesn't make my teeth or gums feel sensitive, either.
The bottle slips right into my purse, so I can use it whenever I need it (up to 6 times a day). Pulling up in the school pick up line? Check. On my way into a meeting? Check. After lunch with my favorite mom friends? Check. On my way to meet my husband for date night? Check.
EverSmile actually has a whole line of teeth whitening sprays and foams. If you are using clear aligners or retainers, or have kids who have entered the world of orthodontia, they have specific cleaners for you. Check out the full line of EverSmile products here.
Jessica  — Mom of Sophie & Jake