As the weather heats up, it becomes time to change out my kids' fall and winter clothes for something cooler. It's tough, because my three year old is going through a phase where she wants to pick out everything she wears. It was super cute at first until she started getting stubborn about it. I tried to tell her that it's getting hot out, so she needs to try and wear cooler clothes, but she replied with "What could be cooler than my Paw Patrol pants?" Sure, it sounds adorable, but it's not so cute when it's going to be 90 degrees soon.
I had to put my foot down and insist we get new clothes for her. Have you guys ever taken a three year old shopping? If you have, all I can say is, I'm sorry. It's such a pain. All she wants is Paw Patrol EVERYTHING! I never thought taking a kid clothes shopping would be as challenging as it was. And yet, somehow, motherhood always throws a new curveball.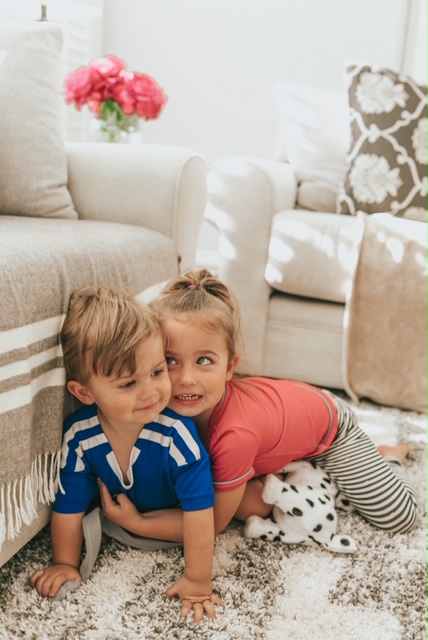 The quest to get Sophie into cooler clothes so that she can play outside comfortably during Spring and Summer hasn't been easy. And it's not just the fact that taking her clothes shopping is a fail every time, it's that it's hard to keep up with the styles these days. I never know what's in for kids anymore, so it's hard to keep up as the seasons change. As much as I'd love to just give in and let her wear whatever she wants, she has to dress for the weather, especially here in California, because the heat can be so extreme.
After weeks of trying to figure out how to get her in anything NOT covered in cartoon characters and also short enough for the hot weather, I finally found Stitch Fix Kids. As you know, I've used Stitch Fix for my own style, and I was ecstatic when I found out they have it for kids, too!! They have adorable styles that ship right to your door, which, I am pleased to say, means no more shopping with a toddler! Also, the clothes they ship are personalized to the child's style, and even met the standard of my picky three year old. Stitch Fix Kids was a huge win for finding the best clothes for my kids.
Visit this link for $25 for any new parent account that schedules a Stitch Fix Kids!
Jessica  — Mom of Sophie & Jake