It's that time of year when everyone gets into the kitchen to make some yummy comfort holiday food! Since living in LA, we've been doing a Friendsgiving for years where we all chip in and each bring part of the feast! And while there are a ton of amazing recipes out there that can get over the top and a bit rich, I like to keep it simple with one of nature's most delicious root vegetables…Sweet Potatoes!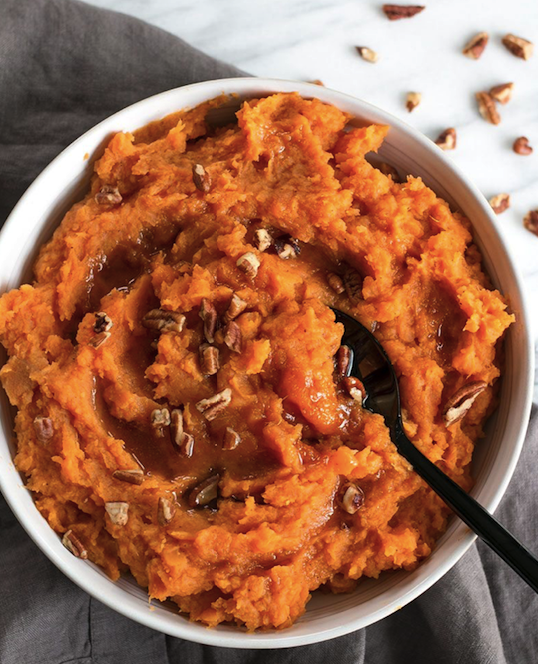 Simple Sweet Potatoes Recipe
I think the trick with this side dish is that the "sweet" is already in there so you can keep it pretty basic. For a mom on the go, that is key! And if you want to dress this dish up a bit, it's super easy to add more in the last few steps.
What you'll need to make simple sweet potatoes:
Sweet Potatoes
Unsalted Butter*
Fresh Cracked Pepper
Sea Salt
Cinnamon
Nutmeg
Brown Sugar
Fork – this is a "to taste" recipe, so be ready to try and tweak as you go!
How To Make Simple Sweet Potatoes
Wash, peel, and cube your sweet potatoes. Put them in a large pot on the stove with just enough water to cover them. Bring to boil and cook until they are soft enough to mash, then strain. The longer, the better, since mashing them when they are at all stiff is some serious work!
While mashing, start to add your butter in tablespoon increments. Crack some pepper and sea salt to taste. If you want to add your other spices and a little sugar to the mix, go for it! However, I like to wait and add them just to my topping, so I don't overwhelm the dish.
Spread the mashed sweet potatoes into an oven safe dish. I usually go for about 1.5 to 2 inches deep. Top with cinnamon, nutmeg, more pepper, and a little bit of brown sugar. If you're feeling frisky, try chopped pecans, dried cranberries, bacon, or take it back to the classic marshmallow topping.
Now, since the oven is on overhaul, you can pop this dish in at any temp. It just needs to toast on the top. At 350 you'll need 10-15 minutes. Less at a higher temp and longer at a lower.
*I like using unsalted butter when cooking so I have more control of how much salt I'm adding to a dish. Not only helpful with taste, but also easier to watch that sodium!
Enjoy!!
And Happiest of Thanksgivings to you all!
Caitlin — Mom of Odin