I am so excited to introduce you to Lisa D'Amato. You might know her from America's Next Top Model, or you might know her as the mommy-preneur on Shark Tank who created Dare-U-Go! – a 5-in-1 solution that helps parents feed their kids on the go. It is a food grade silicone bib, food catcher, divider bowl, air-tight seal food storage unit, and comes with a spork! It's all ONE PIECE which eliminates all mystery space between a stroller bar or a table top. This means you aren't left looking for the tops and bottoms of  tupperware before you rush out the door. And if you lose the spork, any generic one from a food court or restaurant will slide right in. It's dishwasher safe and microwave, and kids love it more than the parents if you can believe that. Here's Lisa to tell you more about it….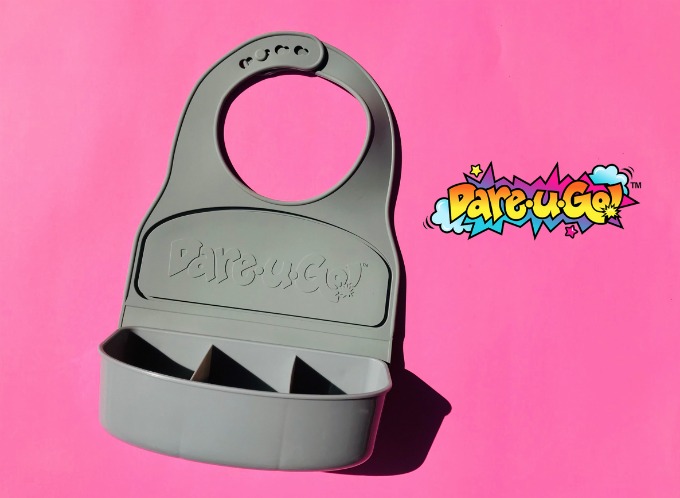 In order to improve and really understand where Dare-U-Go! ranks as far as our own brand and the important factors to consider when choosing a bib we have a lot to be mindful about. I love our product! It's a fantastic 5-in-1, but that doesn't mean you can't love another bib. I actually feel terrific with the results I found after researching 20 other leading brands.
The TOP 5 Factors To Consider Before Buying A Silicone Bib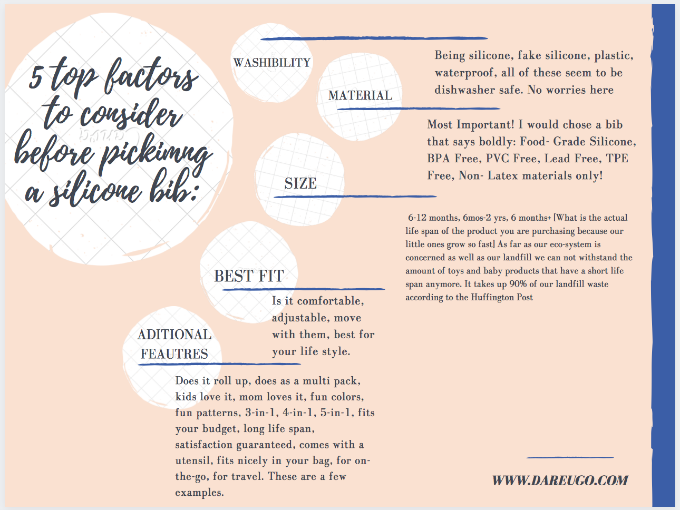 1. Washability
Do you want a bib that is hand wash only, wipes clean on-the-go, or is dishwasher safe?
2. Material & Toxicity
Silicone, quality silicone, "top notch" silicone, food-safe silicone, FDA food grade silicone, BPA Free, TPE free, PVC free, cadmium free, lead free, antibacterial, latex "state of the art production process," food-friendly material, "strict quality control"…. What should you choose?
The play on words when searching the material that is being used for all our favorite brands is quite shocking considering this material is getting used by our bundles of joy daily. Our kids' food is touching these products, and then they are ingesting those bites of food. There are some alarming facts. Here's some links to further read of toxic materials found in "non-food- grade silicone" bibs like TPE, PVC, BPA, cadmium, and lead.
3. Size
6-12 months, 6-2 yrs, 6 months+ … What is the actual life span of the product you are purchasing?
Our little ones grow so fast, but that isn't the only concern. Our landfills can not withstand all of the toys and baby products that have a short life span anymore. Sustainability in what we offer our kids and buy for them to use is a direct reflection of the world we are leaving them with. It important to be conscious of this more now than ever.
Here are good reads from Huffington Post and Plasticsle Mag to speak further on this topic.
4. Fit
Is it comfortable and adjustable? Does it move with your child? Is it the best fit for your lifestyle?
5. Additional Features
Does it roll up, fit nicely in your bag, come with a utensil, and work for on-the-go travel? Is it a 3-in-1, 4-in-one, or a 5-in-one?
Does it fit in your budget, come with more than one in a package, have a long lifespan, and is your satisfaction guaranteed?
All of these are questions you need to consider when you are choosing a silicone bib for your child.
One more thing! Let's go back to the question of toxicity for a minute.
Check out our chart of the 20 leading brands on the market now. The below chart has their safety rating and toxicity.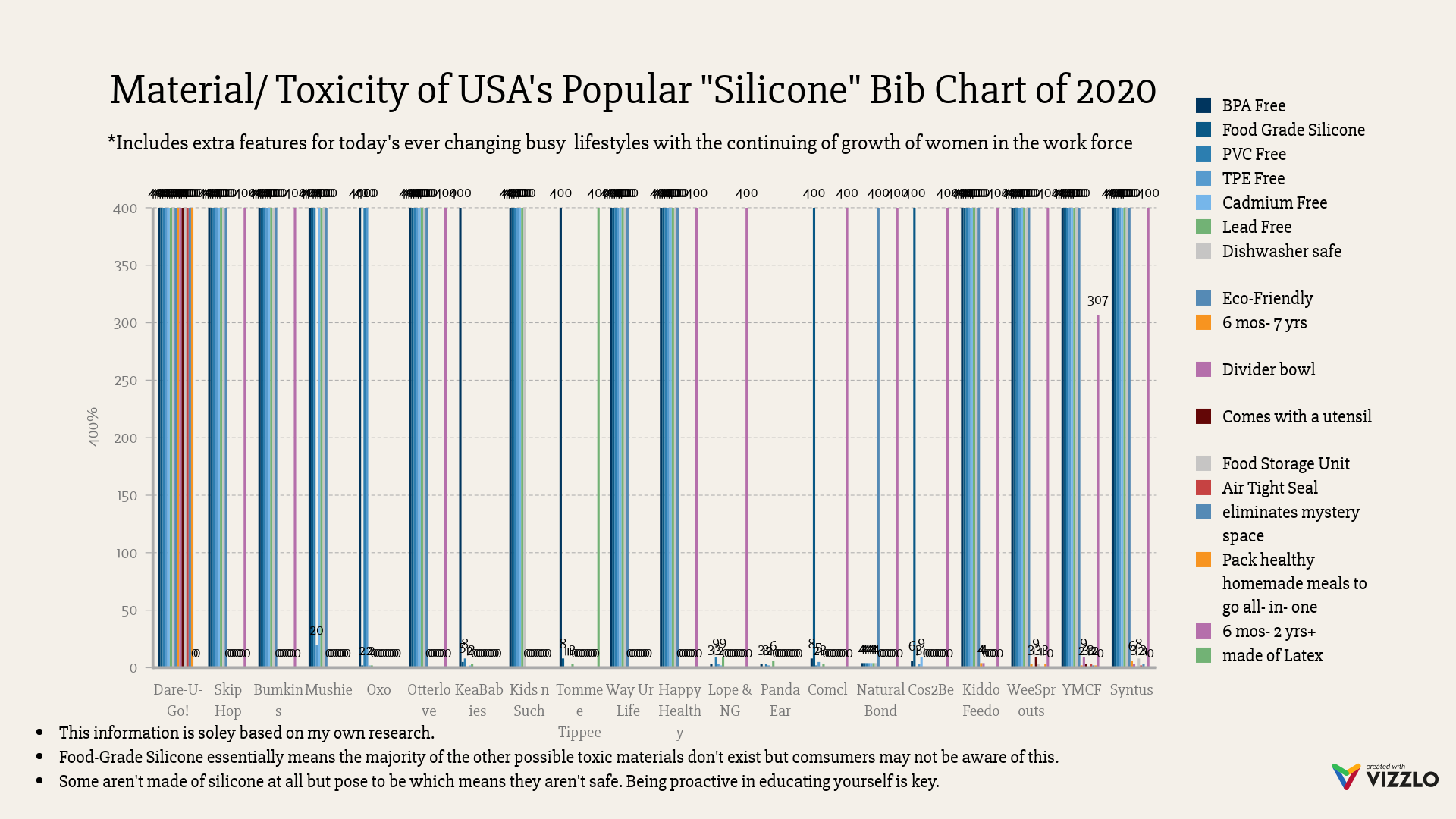 When looking at the chart, notice brands that have less stripes going up – their columns aren't very thick. I would steer clear of these brands, personally. I included additional features to show benefits for todays ever changing busy lifestyles with women's consistent growth in the work force and being inspiring leaders in our economy.
Brands that do really well on this chart besides Dare-U-Go! include Kiddo Feedo, WeeSprouts, Otterlove, Bumpkins (short life span product but a quality one).
Hope this helps as you are looking to learn more about silicone bibs. I also have a YouTube video you can check out where I go over all of these important factors.
Guest Writer: Lisa D'Amato, mom and creator of Dare-U-Go!