Maternity photo sessions haven't always been a thing. I was talking to a group of moms with older kids and a few grandmas the other day, and none of them had done a maternity photo shoot. One of the grandmas said she thinks she has a picture of her putting together the crib when she was pregnant, but that's about it. Things have changed (as they always do, especially in the world of babies) and all of my mom friends who have had babies in the last few years have booked a maternity photo session before their little ones are born. Today I'm going to help you get ready, from when to book a maternity photo shoot to what to wear, here is all of my advice.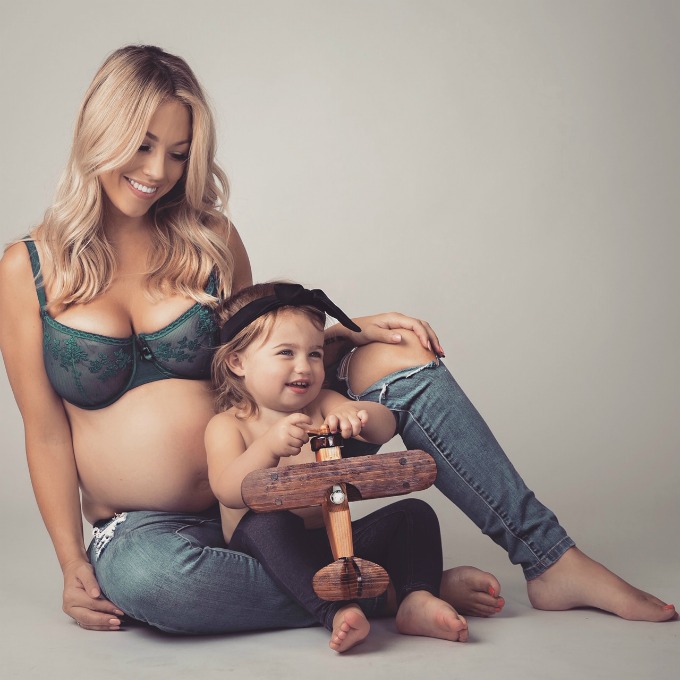 What You Need To Know About Maternity Photo Sessions
I loved doing my maternity photo session. It was a great opportunity to document my pregnancy journey, and have a reminder of just how big my belly was! When I was pregnant with Jake, Sophie was still pretty young, and I included her in my photo session. Those pictures are so special to me, and it was a great time for the two of us to play in front of the camera, and have (yet another of so many) talks about her baby brother who would be joining us soon.
The Best Time For A Maternity Photo Session
You want your maternity photos to capture your beautiful belly, so the best time for a maternity photo shoot during your seventh or eighth month. This is usually the sweet spot when your belly is full and round, before it starts feeling too heavy and uncomfortable. If you are counting your pregnancy in weeks, this is about 30-34 weeks pregnant.
If you are carrying multiples, you will probably want to move this timeline up to around the 24th week of your pregnancy.
What To Wear For Your Photo Shoot
As you can see in my picture, I went for a more casual look during this photo session, with a pair of jeans and a lacy bra. But you can definitely go a more glam route if that's your style. Here are a few ideas:
Casual: Jeans or other tightly fitting pants, you can pair them with a bra or lacy top
Dressy: Maxi dress or skirt, can be flowy or tightly fitting
Glam: Gown
If you don't want to invest in a dress just for this one photo shoot, check with your photographer to see if she has something. Many photographers who specialize in maternity shoots have gowns that they let mamas borrow for their sessions.
Most importantly, plan two outfits. You never know which one is going to feel the best on the day, so it's important to have a back up.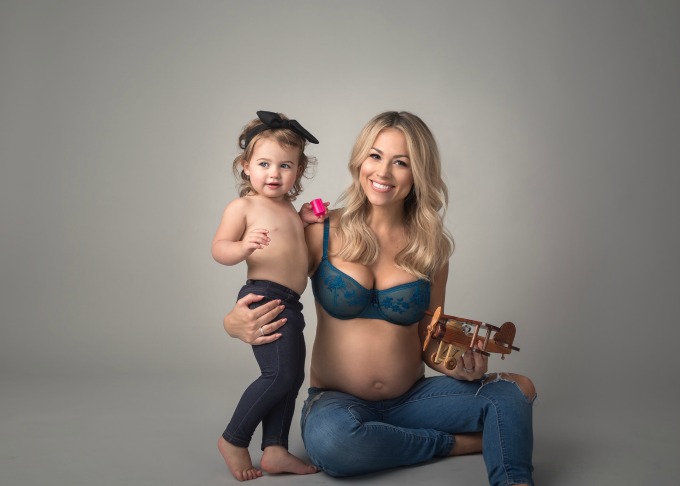 What Else You Need To Bring For Maternity Photos
You may want special props, like baby shoes, flowers, a heart, blocks, etc. This is a good thing to discuss with your photographer before the session, as well. She might have the perfect props already that you can use, or have ideas for props that you haven't thought of. Share your prop ideas with her, even if you already have them, so she can plan ahead how best to incorporate them into the photographs.
And don't forget people! You partner, maybe your older child. I've seen some cool maternity photos that incorporate grandmas, highlighting three (or more) generations of women from a family.
Jessica  — Mom of Sophie & Jake