Okay mamas, is this even possible? Can I dress cute while pregnant?
I'm living in maxi dresses and yoga pants. I'm not complaining too much, because I'm extremely comfortable. Well, as comfortable as I can be. I'm pregnant with my second child, and I've deciding to spice it up a little. My jackets still fit, so that's a plus!
I love pairing up my simple yoga pants with a cool tank and throwing on a leather jacket to feel like I tried. My hair may not be washed in days, or my makeup may not be done, but I feel stylish.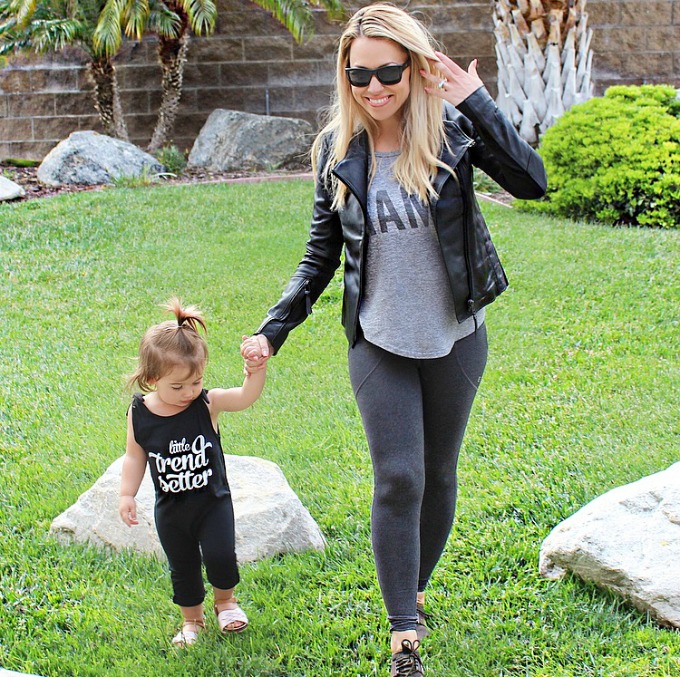 Dressing Cute While Pregnant
For those of you wondering how I created my look, I chose my yoga gear from a company that is run by a mom who has started her own company and is kicking butt! I love supporting working mamas. You can check it out at bodylanguagesportswear.com. My mama tee, which is my absolute favorite, was made by another hard working mama. You can see all her designs at yearofours.com. My rockin' leather jacket can be found at bodaskins.com and Sophie's adorable trendsetter outfit is found at littletrendsetter.com.
It is possible to be comfortable and dress cute while you are pregnant!
Jessica — Mom of Sophie