As a mother, I have moments when I second-guess my decisions regarding my son. It's hard to make decisions like, when to stop breast-feeding, how long is long enough for tummy time, and when to start solid foods. The decision to cut my child's hair was one I thought would come at a way later date.
I always envisioned keeping my son's curly locks for a couple of years. As a hairdresser, I have parents that bring children in for first time haircuts, and from what I see most are around 2 to 3 years of age. At 15 months old, my son has a ton of hair! Unfortunately the wave pattern of his hair is half straight and half curly, and together, it was looking a bit messy.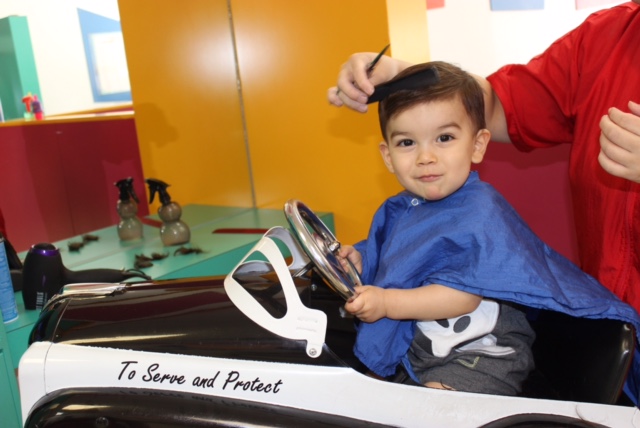 Baby's First Haircut
Although I cut hair, I wanted to have my baby's first haircut experience at a salon that caters to children. My son was put in a barber chair that looks like a cop car equipped with a steering wheel and his own television. With a lollipop in hand, and Mickey Mouse Clubhouse playing on the television, I can honestly say he was enjoying himself.
The haircut experience was great for him, and I was able to be the crazy mom taking pictures and videos of the entire event. We were sent home with a certificate and a lock of his baby curls, along with all of my pictures, it will be a nice memento for his baby album.
Whether you decide your child's haircut should be within the first year of life or many years after, I highly recommend finding the nearest children's salon, so both you and your child can have a nice experience.
Marisa — Mom of Mikey