I love hand-drawn animation. It's so beautiful and full of depth. So I'm very excited about the new movie Wolfwalkers. It's an Apple Original Film from the two-time Academy Award-nominated director Tomm Moore (Song of the Sea and The Secret of Kells) and director Ross Stewart. Moore's previous movies are amazing, and it looks like Wolfwalkers is going to have the same sense of beauty and magic.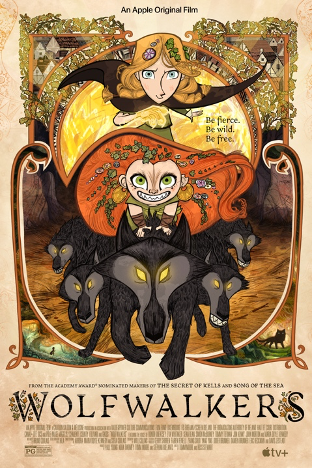 WOLFWALKERS
Wolfwalkers tells the story of a young apprentice hunter, Robyn Goodfelloew, as she travels to Ireland with her father to wipe out the last wolf pack. But while she's there, Robyn explores the forbidden lands outside of the city and meets Mebh – a member of a mysterious tribe who is rumored to have the ability to transform into wolves at night.
As Robyn and Mebh grow closer, Robyn uncovers a secret and risks turning into the very thing her father is tasked with destroying. Check out the Wolfwalkers trailer:
Isn't it beautiful? It has a great mix of magic, danger, and friendship. I'm so excited to see it.
GKIDS will theatrically release Wolfwalkers on November 13th and the film will stream around the world on AppleTV+ on December 11th.
Jessica  — Mom of Sophie & Jake