As we've been spending more time at home this year, I've been testing different wine cocktails. If you are looking for something new to drink tonight, I have you covered. Here are a few drink recipes I'm really loving right now.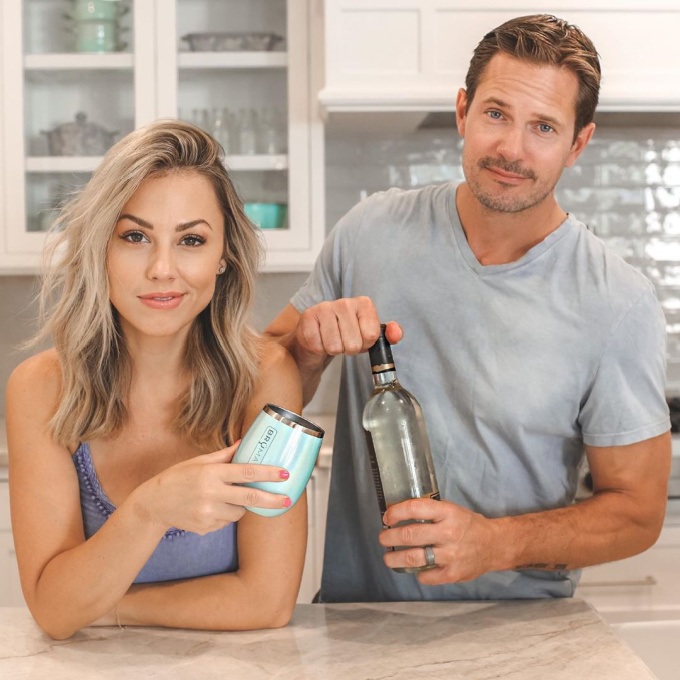 Wine Cocktails To Try At Home
1. Frosé (It's a classic!)
Ingredients:
1 750 ml bottle of bold rosé
½ cup sugar
8 ounces strawberries, hulled and quartered
2½ ounces fresh lemon juice
To start, pour your rosé into a 13×9 inch pan and freeze until it's almost solid (because of the alcohol, it won't completely solidify). This will take at least 6 hours, so I try to pop it in the freezer early in the day.
When your rosé is as frozen as it's going to get, bring ½ cup water to a boil in a medium saucepan and add your sugar. Cook this, stirring constantly, until your sugar dissolves (approximately 3 minutes). Add your strawberries, and take the pot off of the burner. Let sit for about 30 minutes. Strain this mixture through a fine-mesh sieve into a small bowl, and you have created strawberry syrup! Cover and chill for about 30 minutes (you want it to cool completely).
Scrape your rosé into a blender. Add the lemon juice, 3½ ounces strawberry syrup, and 1 cup of crushed ice into the blender and purée this mixture until it's smooth. Put your blender jar into the freezer until the frosé is thickened to a milkshake consistency. This should take 25–35 minutes. Blend one more time to make it slushy, and serve.
2. Grapefruit and Reisling Cocktail
Ingredients:
1½ ounces Riesling
¾ ounce grapefruit juice
½ ounce pisco
½ ounce Aperol
1 dash Angostura bitters
½ ounce simple syrup
Grapefruit peel for garnish
The ingredients for this one are a little fancy, but it is super simple to make! You just combine all of the ingredients in a cocktail shaker filled with ice. Shake them together and then double strain.
Before you garnish your glass with the grapefruit peel, twist it over the glass to express the oils. Enjoy!
3. Strawberry and Lime Moscato Punch
Ingredients:
1.5 liter of Moscato wine
1 can frozen limeade concentrate defrosted
1 cup strawberries diced plus 1 cup strawberries, sliced
1 lime sliced into wheels
2 Liters of 7 Up
We aren't having big parties right now, but punch can still be fun for a night in. To start, place 1 cup of diced strawberries and 1/4 cup of limeade in a blender and puree. Then, run this mixture through a strainer to remove the seeds. You won't get them all, but that's okay. As long as you get most of them.
Pour your strained puree into a pitcher. Add the remaining limeade and your bottle of Moscato to the pitcher and chill in your refrigerator.
When you are ready to serve, fill the glass about 3/4 from your pitcher and then top it off with 7 Up. Garnish with strawberry and lime slices. Easy peasy and delicious.
Jessica  — Mom of Sophie & Jake