During these crazy times of self-isolation, I have heard a lot of strange things come out of my husbands' mouth. Suddenly my husband has gotten really needy for comfort food, and the words, "I wish we had Sloppy Joe's for dinner," came out of his mouth. What on earth was this man talking about? Did my husband forget we are primarily plant-based, and I had once again been on a strict diet dodging gestational diabetes? Cheat days were not about to be waisted on a Sloppy Joe! Since staying home, my husband has gone from zero meat to wanting to eat meat. It has been a challenge, but I have learned that if I make him food before he gets hungry it is much easier to keep him plant-based.
Attempting to happily fulfill his Sloppy Joe request with a vegan spin, I read the ingredients on the back of a random Sloppy Joe sauce can. This is what I found; Tomato Puree (water, tomato paste) High fructose corn syrup, distilled vinegar, corn syrup, less than 2% of: salt, sugar, carrot fiber, dried green and red bell peppers, chili pepper, guar gum, spices, xanthan gum, dried garlic, natural flavors, citric acid.  When trying to control my glucose levels, things like high fructose corn syrup, and sugar are out of the question for me. Then he wanted me to add a hamburger buns to this? I felt overwhelmed. I was going to have to make this from scratch, come up with some low glycemic modifications, and still give my husband something close to his childhood meal.
The good news is, after a few batches of homemade Sloppy Joe sauce, I was finally comfortable giving him a vegan version… His comments were, "The sauce is great! I just need a little more than the lentils if I eat it without the bun. But with the bun it was good." So do yourself a favor and serve it on bread. He was right, once I put it on a soft white hamburger bun for him, our vegan Sloppy Joe was enough to curb his craving. In a perfect world I would have made the sauce and poured it over the Beyond Beef Crumbles, however being in the middle of the Covid-19 mediatory "Stay Home" orders, I'm living in a time where luxury items are out of stock. So lentils was my next best option. If you are not vegan, just pour the sauce over your choice of ground meat.
If you are making this with lentils, make sure your lentils are well-cooked and have had time to absorb the sauce and its flavor, otherwise it makes it a little difficult to pass for the meat substitution. Once the lentils and sauce are on a bun it is really good. Also, if you are diabetic or have gestational diabetes, the lentils make this is a high carb meal. While lentils are easier for the body to digest, they are still high in carbs so you, and I, will most likely only be able to enjoy a hearty serving on one slice of bread. I made a large salad to go with my single slice serving. Two hours later, after I gave my body the proper amount of time to regulate my glucose levels, I went back for seconds. Happy cooking!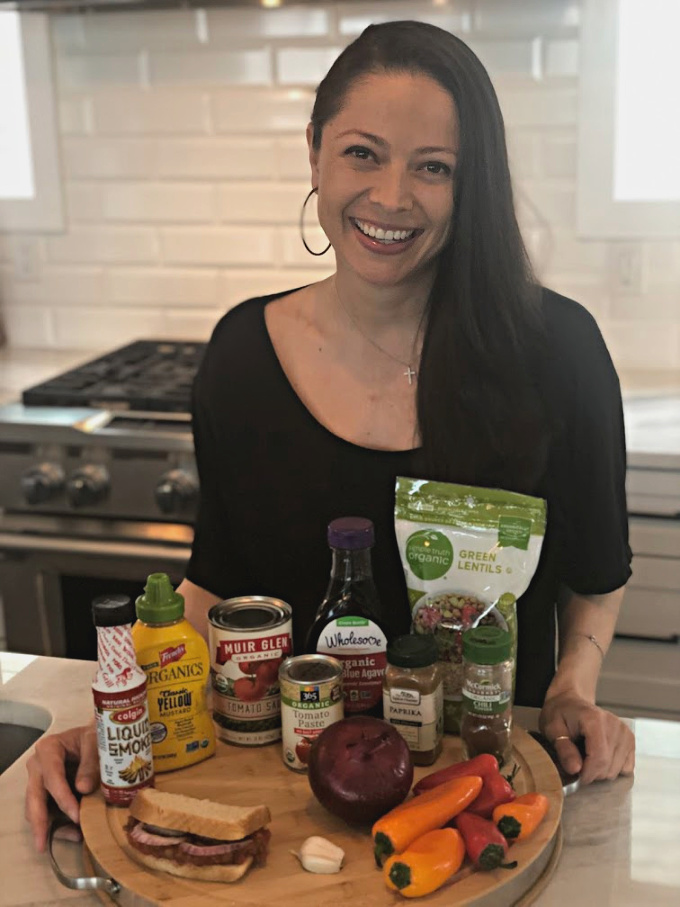 Vegan Sloppy Joe Ingredients:
1 cup uncooked green lentils
4 cups water
1 medium yellow or red onion, diced
5-7 mini sweet peppers or 1 medium green bell pepper, chopped small
2 garlic cloves, minced
3 tablespoons chili powder— optional
2 teaspoons smoked paprika— if you only have sweet paprika just add liquid smoke. Most stores only have sweet paprika
(1) 15-ounce can tomato sauce
3 tablespoons tomato paste (or Ketchup if you are not diabetic and do not need to watch your sugar intake.)
2 tablespoons yellow mustard
3 tablespoons agave (or pure maple syrup if you do not need to watch your sugar intake)
ONE slice of your favorite bread or half a hamburger bun if you are diabetic
How To Make Vegan Sloppy Joes
First, cook the lentils: In a medium pot with a lid, add the lentils and water. Bring to a boil, then lower heat and simmer for 25 minutes or until tender. Drain excess liquid and set aside.
Heat a large skillet over medium heat. Once hot, add the chopped onion, sweet peppers and garlic. Keep a cup of water next to you and add a few tablespoons of water to sauté and prevent burning. Stir constantly for 4 minutes, using more water as needed.
Add smoked paprika, (and chili powder if desired) and stir for about 1 minute. Continue to add a little water if it's too dry.
Next, add the tomato sauce, tomato paste (or ketchup), mustard and agave (or maple syrup). Stir well. Add in the cooked lentils and stir.
Serve on burger buns, with red onion slices if desired, and enjoy!
Pilar