As I wrote before, we mamas know it can be hard to find the time and means to celebrate Valentine's Day. When I told Kyle we should make a nice dinner at home, his reaction was priceless: he asked, "Do we even know how to make anything other than Mac n Cheese anymore?" I laughed, and then I realized "Oh crap he's right." While it's not all Mac n Cheese, it is mostly kid-friendly food.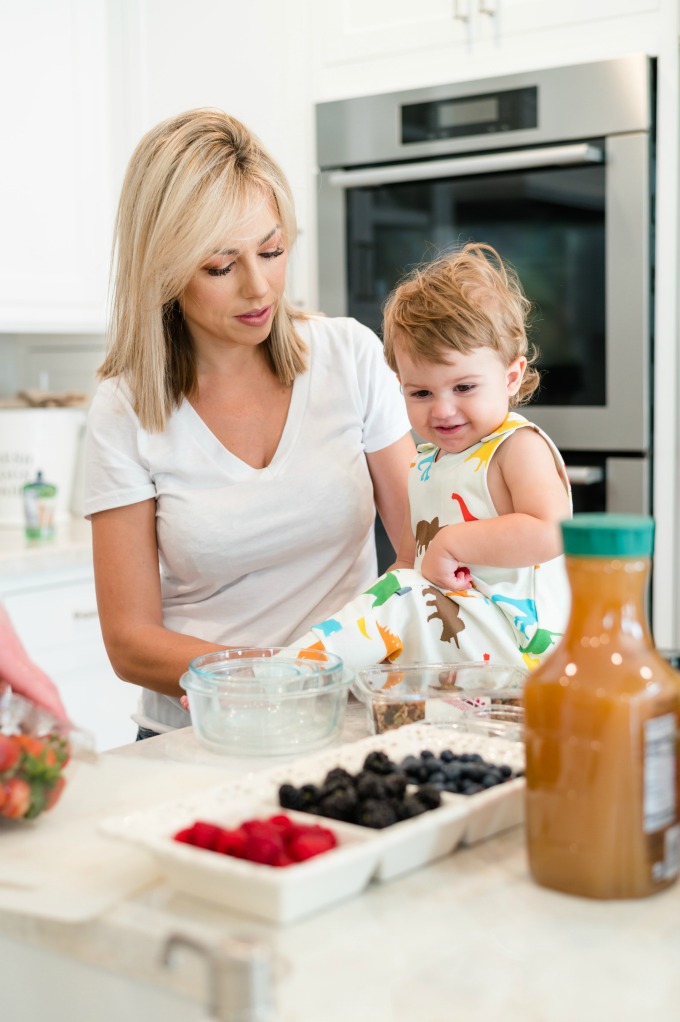 It's hard to remember the last time we made a nice dinner for us. We decided Valentine's Day would be our time to actually have a nice, adult dinner. I found this amazing pork recipe, so I had to share. It's pork braised in Champagne-vinegar and the best part is, it pairs beautifully with a rosé champagne.
Pork Braised in Champagne-Vinegar
Ingredients:
One 3 1/2-pound fresh picnic pork shoulder with skin
3 garlic cloves, thinly sliced
Salt and freshly ground pepper
1/4 cup extra-virgin olive oil
2 cups thinly sliced shallots
1 teaspoon ground cumin
1 teaspoon ground coriander
1 teaspoon powdered mustard
3/4 cup Champagne vinegar
2 cups dry sparkling wine
2 cups chicken stock
2 large sage sprigs
1 pound red grapes, stemmed
2 tablespoons unsalted butter
2 tablespoons chopped flat-leaf parsley
2 tablespoons snipped chives
How to Make Pork Braised in Champagne-Vinegar
Step 1
Preheat the oven to 300°. Using a sharp knife, score the pork skin in a crosshatch pattern. Make deep slits all over the pork and insert a slice of garlic into each slit. Season the pork with salt and pepper.
Step 2
In a large enameled cast-iron casserole, heat the olive oil. Add the pork and cook over moderate heat, turning occasionally, until browned all over, about 12 minutes. Transfer the pork to a plate.
Step 3
Add the shallots to the casserole and cook over low heat, stirring, until lightly browned, 5 minutes. Stir in the cumin, coriander and mustard. Add the vinegar and scrape up any browned bits from the bottom of the casserole. Add the wine, stock, and sage and bring to a boil. Return the pork and any accumulated juices to the casserole. Cover and braise in the oven for 3 hours, or until the pork is very tender.
Step 4
Carefully transfer the pork to a platter and cover with foil. Set the casserole over high heat and boil the braising liquid until it is slightly reduced and thickened, about 10 minutes. Add the grapes and boil until they just begin to soften, 8 minutes. Remove the casserole from the heat and whisk in the butter, parsley and chives. Slice the pork and serve with the vinegar sauce.
Make Ahead
The pork can be refrigerated in its braising liquid, sliced or unsliced, for up to 2 days. Reheat gently before serving.
Jessica — Mom of Sophie & Jake
https://www.foodandwine.com/recipes/pork-braised-in-champagne-vinegar