We are so used to regular sleep that we forget that sleep is actually a learned skill. This means that your baby need to learn how and when to fall asleep. It is important to introduce your baby to a sleep schedule when they are 2-4 months old as this will help them learn good bedtime habits from a young age. Babies fall into fairly predictable patterns quite easily which makes it easy to introduce them to a regular sleep routine.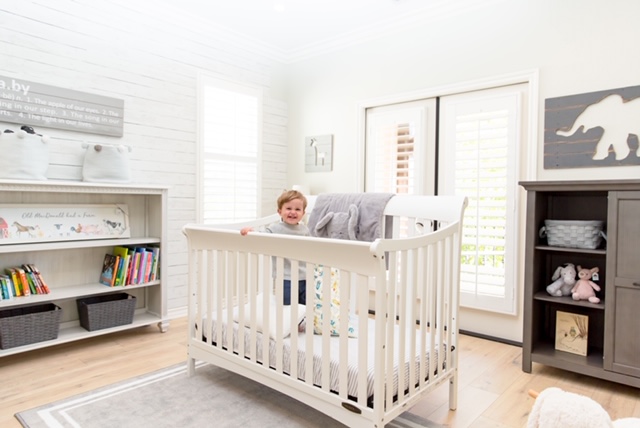 6 Sleep Solutions for Babies
1. Identify Sleep cues
Fussiness and crying are NOT sleep cues, they are signs that you have missed your baby's sleep cues and your little one is now tired and cranky. Every baby is unique and has different sleep cues so keep an eye out for common sleep cues so that you start to understand your baby's sleep habits.
When babies are ready to go to sleep, they lose interest in their surroundings. You will notice that your baby is less focussed and his eyelids may begin to droop or flutter. Your little one may even rub his eyes or ears and yawn. Jerky movements of the hands and feet can also be a sleep cue. Identify your baby's sleep cues as early as possible so that you can create a regular bedtime or naptime routine.
2. Create a bedtime and naptime routine
A regular bedtime and naptime routine helps your baby ease off to dreamland. Create a bedtime and naptime routine by introducing repetitive actions – this can include softly singing or humming the same song over and over again or reading the same bedtime story every day. It is best to start these sleep time rituals within the first month so that your baby easily adjusts to the new routine.
Make a note of what works best and slowly tweak the routine to make it more effective. A bedtime and naptime routine is a simple but effective sleep solution as it helps your baby unwind before sleeping which will make him fall asleep quickly.
3. Help program your newborn's "internal clock"
Adults have a circadian rhythm which is our "internal clock" that regulates our sleep-wake cycle and repeats every 24 hours. Newborns do not have this clock and research shows that it develops at about 8 weeks of age. The development of the circadian rhythm in babies is dependent on their exposure to light and studies show that babies who are exposed to environmental cues – light and darkness adapt more quickly. This means that you should make sure that there is plenty of light in your baby's room throughout the day but limit his exposure to artificial light after sunset. This will help your baby adjust to regular sleep timings.
4. Use a red night light
Melatonin is known as the sleep hormone as it helps to regulate our sleep schedules. During the day, when you are exposed to bright light, the pineal gland in your brain produces less melatonin but when you are no longer exposed to light, the production of melatonin increases. Researchers found that we are more sensitive to blue light so exposure to this light reduces melatonin production.
A red night light will provide enough light for you to change your baby's diapers and carry out night-time care while simultaneously protecting your baby from exposure to blue light. Using a red night light on a regular basis will help your baby fall asleep faster and stay asleep for longer periods.
 5. Set the right mood for naptime
Newborns sleep for approximately 16 hours a day with at least 8 to 9 hours during the day. Since they have small stomachs, they must wake every few hours to feed and then go back to sleep. This will start to change at about the 3-month mark when your baby remains more active throughout the day.
Your baby's total naptime during the day should amount to 3-4 hours with each nap lasting 1-3 hours. Use thick curtains in the nursery as this will help to darken the room for mid-day naps. Make sure that the room is comfortably cool and quiet to help your little one fall asleep.
6. Avoid Sensory Overload
Babies learn about the world around them through sensory stimulation. Activities such as playing engage your baby's sense of sight, sound and touch which helps them learn and develop. Sensory stimulation is an important aspect of early learning but overstimulation can cause a sensory overload which will leave your baby cranky and hyper-vigilant. This will make your baby feel overwhelmed and can impair his ability to fall asleep. Move your child to a dim and quiet room and minimize sensory input to help him calm down and fall asleep. You can also use a pacifier to calm your baby and help him get some much needed rest.
Every baby is unique so understand your baby's sleep preferences and work with those rather than trying to force him to follow a prescribed pattern. It can take several weeks for your baby to get used to a sleep routine so persistence is as important as consistency.
Guest Writer – Juzer Chhedawala