Summer is in full swing here in the Midwest, that means making every weekend count with fun filled activities! Making memories out of family trips to the cabin is what it's all about right? Is it just me as a mom of three, or do you also need a vacation from these fun filled trips? Between the constant chasing, cleaning, arguments, drama and embarrassment caused from my toddlers I am more than ready to get back home and back to reality by the end of it! I hope they treasure these memories, because it sure takes a toll on me getting through the process.
Before it all begins, I pack, clean the house, clean out the fridge, make lists, grocery shop, overpack every item (just in case), prep the house for being away from it for days on end, and get everyone what they need for the trip up there. It's not like my husband doesn't help, but moms know that there are certain items men just can't tackle like we do. I consider that to be about 95% of such items — if not, it sure feels that way!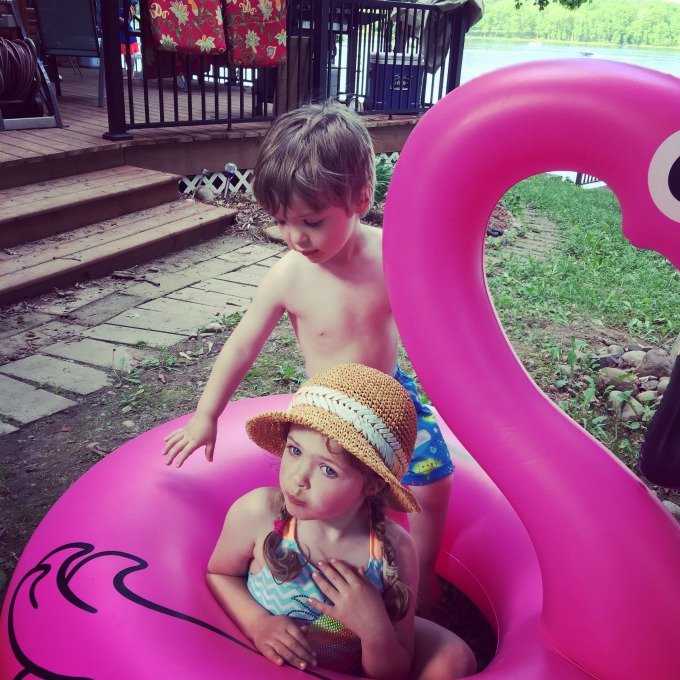 Runaway Toddler
Currently I'm dealing with a soon to be 3-year old boy who is beyond a troublemaker and into everything! I have a very watchful eye over him, but he still escaped from me twice. These two times it was because I turned my head to check on the four year old!
One of the times he escaped, he actually made it into the neighbor's cabin and invaded their lounging time in the living room! I was beyond embarrassed. I mean, when is the last time you just ran into someone's private cabin in your swim suit chasing your kid? Just picture me, sweating and frantic from chasing him, full of sunblock, hair is ALL a mess, spilled mustard on my arm, running into a room full of quiet adults just chilling on the couch and relaxing from the hot day. "Hey y'all. Hot mess of a mom here to gather my child who was not shy about making himself at home with ya!"
Man, that kid can be naughty. I simply can't understand how someone that little can be so fast! Of course he screamed the entire time as I picked him up and hurried out of their cabin. He was after a truck he saw in the corner… of course. THAT was more important than listening to his mom.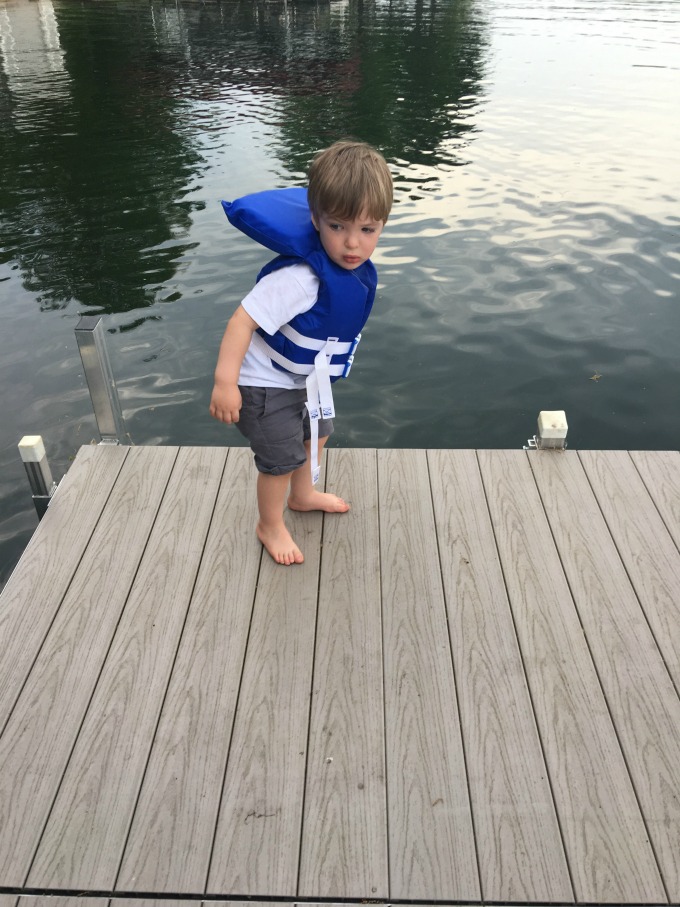 The second he ran away, he only made it to the front door, because they spotted him coming!
He also fell face first into the lake directly in front of me. Talk about an absolutely terrifying moment for both of us! Yes, yes of course he was wearing a life jacket and I am a TOTAL FREAK when it comes to babies around water. My gosh it took one slip and he went face first in walking along the beach. Poor baby. When he finally calmed down he explained to me that his legs fell off and he crashed in the water. So cute/sad, yet another example of how much goes into these weekends, never a dull moment!
I'm sure my in-laws were thrilled by how many times they heard the words no, not now, stop crying, go to bed, and the endless sighs coming from me. I know it will get easier, but for now I better up my running game so I can make it to the neighbor's door before he does!
Good grief! I'm exhausted all over again just thinking about it! I would love to be that mom we all think has it all together, but in reality, there is no such mom. We all have these embarrassing kid stories, I'm sure I'll have more than enough to come as the summer goes on!
Lynnaya — Mom of Elly Mae, Ava, & Eli