Yes, you read the title right. Homemade salads can be enjoyable, but have you ever noticed that homemade salads are never as good as restaurant salads? Being stuck in the house has led me to lower my standards when it comes to meals. By a lot. And going out to a restaurant and having a delicious dish prepared for me sounds like an urban myth at this point. So how do I achieve a restaurant quality salad at home?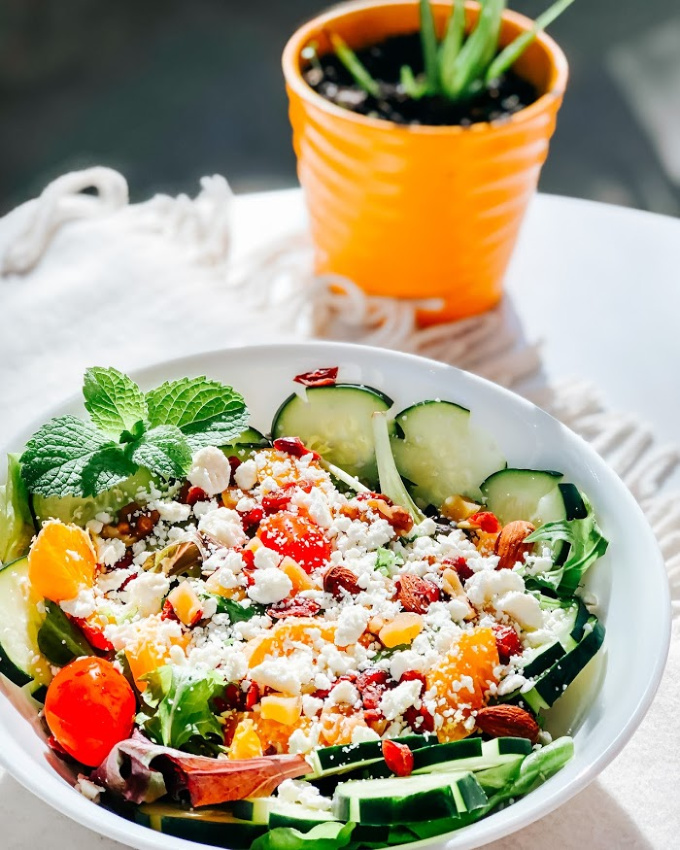 How To Make A Restaurant Salad At Home
Here are my secrets to making healthy, clean-eating salads that look amazing and taste great.
Use a Salad Spinner!
I cannot stress this enough! Its always smart to wash your greens. But having a soggy salad isn't good! If the greens are not dried correctly, the dressing won't cling well and the salad will end up tasting watery. Salad spinners are inexpensive and make a world of a difference.
Fats!
When putting your salad together, don't be afraid to add those good fats in. Mix in your favorite seeds, nuts, cheeses and yes of course, avocado! I love to have that added crunch to my salads, almonds are my go-to!
Protein!
Salads can always be made to be more filling (and delicious) by adding protein. Hard boiled eggs, grilled chicken, steak, bacon are my favorites. Or, if you're following a vegan/vegetarian diet, choose proteins such as black beans, tofu, quinoa, lentils or nuts.
Cut everything into tiny pieces!
Big leaves and chunky ingredients make a salad harder to eat. Chop everything into bit-sized pieces– you want to be able to get as many flavors onto one bite as possible.
Salads can be sweet!
Sweet fruits like dried blueberries, fresh citrus or strawberries create a powerful balance to savory meats and cheeses. They also help to satisfy your sweet tooth and help curb those cravings.
Make Your Own Salad Dressing!
Homemade salad dressing is super easy to make. Add delicious herbs or even berries to any base and throw it in a blender. And if you prefer creamier dressings, add mayonnaise, sour cream or even yogurt as the base. Here are some ideas if you've never made your own salad dressing before: 9 Homemade Salad Dressing Recipes
Toss it!
Most restaurants serve their salads pre-tossed in dressing. This coats each bite in all the dressings and seasonings. And if you toss the salad correctly, you'll use much less dressing vs pouring it on the top!
Jessica  — Mom of Sophie & Jake