I have a checklist of what I need when I'm looking at diaper bags. First on that list: I don't want it to look like a diaper bag. It's a bag that I'll be carrying day after day, and I want to love the look and feel of it with all sorts of outfits. This is why I'm a big fan of Petunia Pickle Bottom bags. They are gorgeous and well-made.
Petunia Pickle Bottom just released a super cute, new boxy backpack with a metallic, rose gold Mickey print that is perfect for a trip to Disneyland, Sunday brunch with the family, or an afternoon running errands.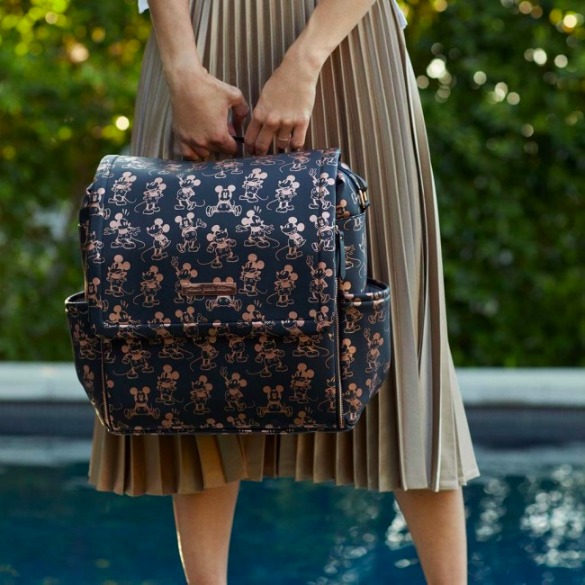 Petunia Pickle Bottom Metallic Mickey Boxy Backpack
If you haven't seen the Petunia Pickle Bottom boxy backpacks, you may be surprised at how much stuff you can fit into one. This bag has 5 interior pockets (2 to stow bottles) and 2 exterior bottle pockets, so it's easy to stay organized. My favorite feature is the zip-out diaper changing station with removable changing pad. It's so convenient for all the times you find yourself having to change a diaper on the go (basically every day, right, moms?).
You can wear the bag as a backpack or cross-body/on shoulder. It also has stroller straps that work great with most strollers.
But the best part is that cute metallic Mickey print. It's a must-have for Mickey fans.
This bag is available at www.petunia.com just in time for the holidays.
Jessica  — Mom of Sophie & Jake