Are you planning a trip with your baby?
This list will help you pack your diaper bag, so you have everything you need for traveling with a baby.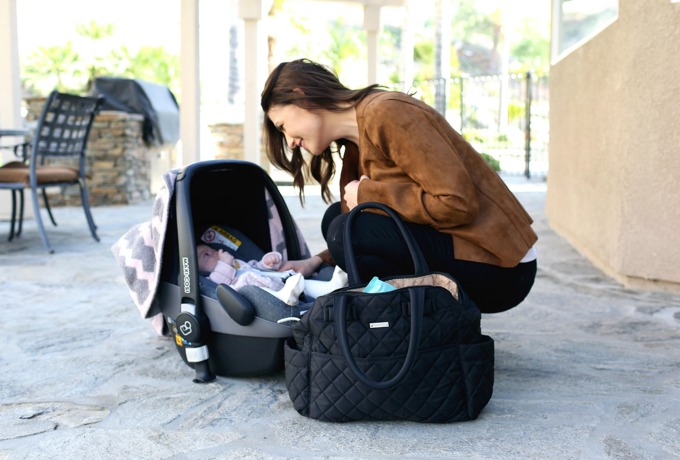 What To Pack In A Diaper Bag For Traveling
Antibacterial wipes to wipe down chairs, arm rests, and tray tables.

Baby wipes, for obvious reasons. 🙂 

A surplus of diapers, because you just never know when to expect a blow-out.

An extra outfit (or 2!). Make sure they provide enough coverage to cover your baby for both warmth and germs. I also like to pack an extra pair of socks and a jacket, just in case the airplane gets cold.

Blankets. I like to bring both a muslin blanket and a warm blanket. The warm blanket to keep your baby warm and a muslin blanket to lay baby on for changing diapers.

Bottle and pacifier wipes. I like these because it's near impossible to rinse your pacifiers/bottles on a plane. 
What To Pack For Feeding Traveling Babies 
Bring bottled water for preparing baby bottles. DO NOT USE THE AIRPLANE SINK WATER FOR BOTTLES! You always need to bring your own.

Fill a thermos with hot water to mix with the cold water in your water bottles. This will ensure a warm bottle of formula for your baby. 

Stackable formula containers. Pre-measured formula will make things quick and easy. 

I always pack more formula than I think I'll need just in case.

If you are breast feeding mother, DO NOT FORGET YOUR BREAST PUMP along with its attachments and clean bottles to transfer breast milk into. You can also bring pre-pumped breast milk, but it may need to go through additional screening at the airport. 
Packing For Traveling Toddlers
Snacks, snacks and more snacks! Make sure you pack plenty of healthy snacks for both you and your toddler. 

Sippy cups to transfer juice into to reduce spills.

Phone or mobile devices. Download your child's favorite movies/cartoons because distractions always help.
One more suggestion for traveling with toddlers. Go to a discount store and buy several trinkets (make sure they can't swallow them) and individually wrap them. Give your toddler a present every time they start to get bored to reduce outbursts. Bribery works. 🙂
Stacie — Mom of Audrey