This post is a part of our Sleepless Mom Must-Haves series by Monica Banks, founder of Gugu Guru – the ultimate baby registry discovery site for style-savvy moms.
The team at Gugu Guru has been so excited to work with Jessica on preparing for her second baby. A lot of people might ask if you've already had a first baby, "What do you really need for baby #2?" If your second baby is a different gender, as in Jessica's case, you'll likely need some gender specific items. 
We also find that second time around moms are usually much more keen on the products they wish they had for their first, and are especially interested in the newest and coolest items on the market that may not have been available with baby #1. This was also the situation with Jessica. 
We sat down to determine what Jessica really needed for her baby boy, and here's the list we collaboratively put together.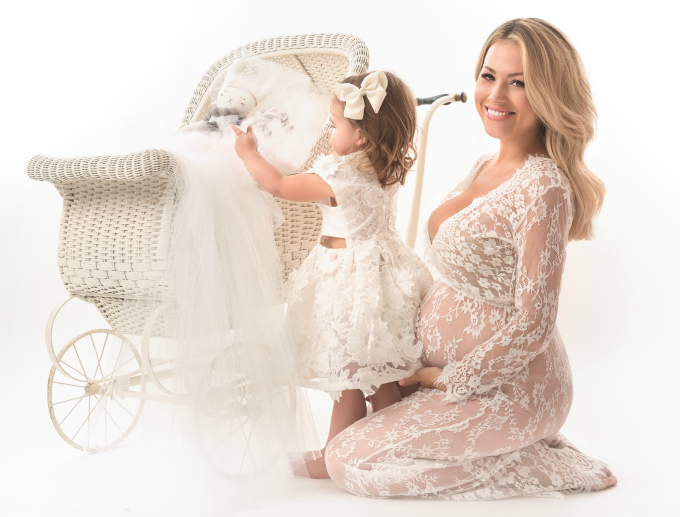 Nursery Must-Haves
Comfortable glider and ottoman. For those Sleepless Mom late nights, Jessica picked the Klaussner Guthrie Swivel Glider in Belsire Grey with the Ottoman available at buybuy BABY. Gliders are especially useful for nursing mamas, who will want to be comfortable for those late night feedings.
A lightweight, high-quality bouncer that grows with your baby. Since she's a mom on the move, Jessica selected the BABYBJÖRN Bouncer Bliss in Midnight Blue for its lightweight and portable design that folds flat. Plus, once your child has learned to sit unaided, you can turn the fabric around on the Bouncer Bliss and use it as a comfortable children's chair.
Stylish diaper pail. The Ubbi Diaper Pail not only keeps in that lovely diaper aroma, but also saves you money as you only use standard 13-gallon trash bags as a liner, not a brand-specific liner. This eco-friendly pail is made of steel and comes in several different colors.
A humidifier for the best sleeping environment. Crane's Droplet Ultrasonic Cool Mist Humidifier features an ultrasonic cool mist that increases moisture in the air for easier breathing, smoother feedings and a good night's sleep. It's so important to have the right amount of humidity in bedrooms, as proper humidity relieves cough, cold, and flu symptoms, as well as nasal congestion, dry cough, sinus irritation, nose bleeds, and dry skin and hair.
Non-toxic, low maintenance nursery decor. Jessica chose Lorena Canals Clouds Grey rug to put down in the baby's nursery and Bubbly Blue Baskets for storage. Simply throw your stylish, eco-friendly Lorena Canals rugs, baskets and cushions in the washer and voila, they're as good as new!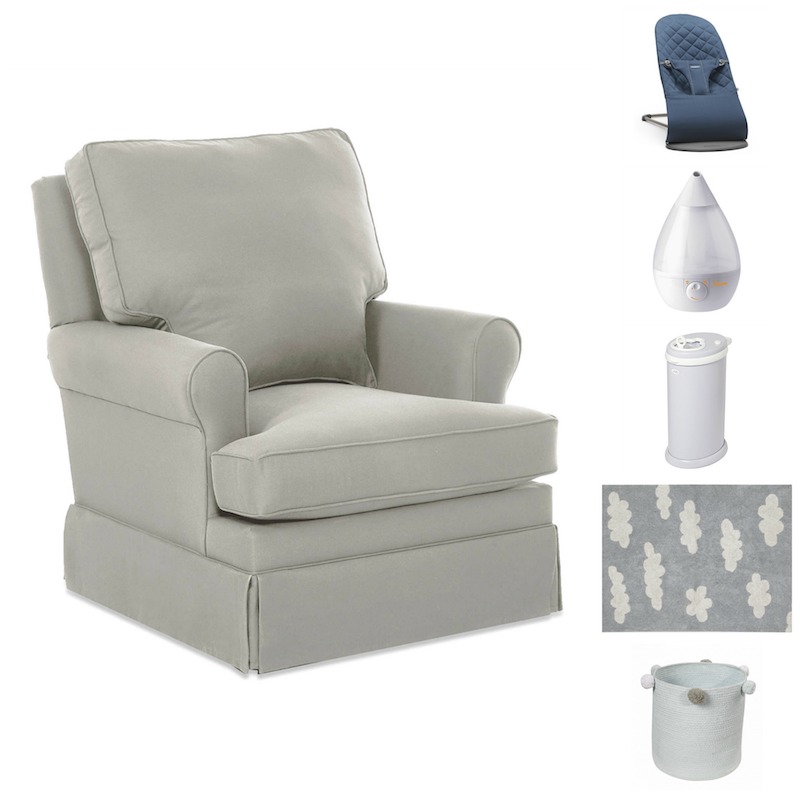 4th Trimester Must-Haves
A great swaddle. The Ollie Swaddle is made from custom moisture-wicking material to reduce the risk of overheating and offers a custom fit that grows with your baby to allow it to be individualized to meet the needs and size of each little one. You can also avoid sleepless nights with easy access diaper changes accessible through opening at the bottom – bonus!
A place for baby to sleep in the master bedroom. The AAP recommends that baby room share (not bed share) with parents for at least the first six months.  Jessica was looking for something lightweight, portable and above all else, safe. Gugu Guru recommended the BABYBJÖRN cradle and fitted sheet.  Designed for newborns up to six months old, the BABYBJÖRN Cradle is a compact, cozy cradle constructed with breathable mesh fabric. It soothes your baby with soft rocking motions.
Stylish, nursing pajamas. After all, a girl's gotta look good and be comfy after delivering a human. Gugu Guru is a big fan of Belabumbum maternity sleep and loungewear. The line is super comfortable and comes in a variety of styles to keep mama looking fashionable as she "lounges."
Comfortable postpartum underwear. The UpSpring Post Baby Panty is designed to speed recovery and slim your post-baby belly. They're engineered with medical-grade compression to shrink the uterus, reduce swelling and flatten the post-baby belly.
On the Go Must-Haves
A multi-purpose baby lounger. Jessica wanted something portable for baby to chill out in and the DockATot Deluxe  takes the cake as you can use it for playing, resting, tummy time and more! Great for travel as well because it's so lightweight and portable. Jessica was sure to register for the travel bag, which was not available when she had baby #1.
Life hack for shopping with two kids. Any mom will tell you that the first trip to the grocery store when you have two babies in tow is the scariest trip of all. Enter the Binxy Baby Shopping Cart Hammock. This hammock for baby or baby's car seat is designed to fit safely and securely onto standard sized shopping carts, and hang suspended so that you still have plenty of room to fill your cart with groceries.
A top notch carrier. For the second time around, Jessica was looking for a structured carrier that isn't bulky or outfitted with a ton of buckles. Lillebaby is a line of award winning baby and toddler carriers. The carriers are designed specifically for comfort (can you say lumbar support and padded straps?) and ergonomics with front and back carrying options.
A gender neutral, roomie diaper bag. Jessica wanted a stylish weekender style bag for the hospital and was thrilled to discover the Babymoov Traveler Bag that will also double as a diaper bag and a travel bag. This super functional bag is also gender neutral so that Kyle can also rock it.
An awesome double electric breast pump. Jessica needed a really good pump because she's a working, breastfeeding mom who is always on the go. Gugu Guru recommended the Lansinoh Smartpump. This pump offers three customizable pumping styles mimic baby's natural feeding pattern to maximize milk production and comfort.
Monica Banks — Founder + CEO, Gugu Guru