At 19 months old, my son jumped out of his crib. He was extremely scared and upset. I was told that because he had scared himself, I was not to worry, and he would more then likely not jump out again. Wrong! The very next day he managed to jump out again.
Typically, most people make the transition from crib to regular or toddler bed between ages 1 1/2 and 3 1/2 years old. For me, the threat of an early morning ER visit if he were to seriously injure himself from the fall just didn't seem worth it.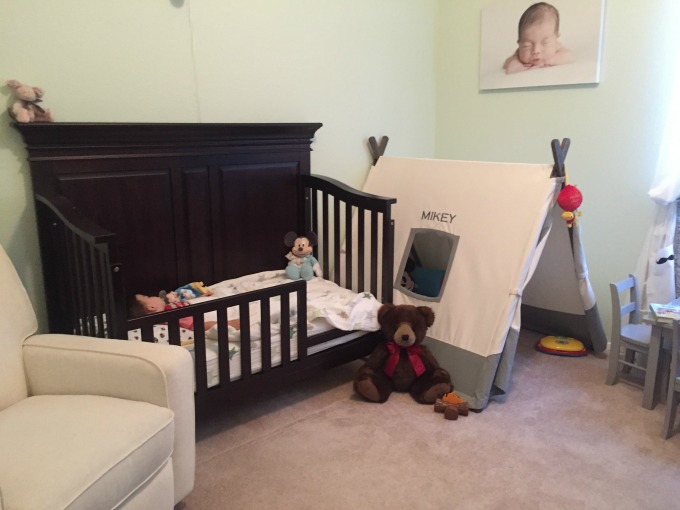 My Toddler Jumped Out Of His Crib
Luckily I have a 4 in 1 convertible crib so in a matter of 10 minutes my crib became a toddler bed. I love the idea of a 4 in 1 convertible crib, because let's face it, after only 19 months I would hate to have to spend all that money just to pack it away. With one easy step and 10 minutes of light effort I was able to convert it on my own. I didn't have to spend money on a new bed or a bigger mattress.
Experts advised to keep the bed in the same spot as the crib so the child is at ease with the transition. Toddlers struggle with a need for security along with growing independence. Everything becomes overwhelming and they need that sense of familiarity to feel secure in a new place. For this reason, keep with the theme of your nursery and eliminate any obstacles to sleep that may be lurking in your child's room. If the kid thinks it's a play room, it will be more difficult to make the transition.
As I struggle to get used to the idea of my 19 month old toddler free to roam around the house, and every morning being woken by his adorable face talking at me in my bed, I'm now thankful that I took the time to professionally childproof our home and that we spent the extra money on investing in a convertible crib. From crib, to toddler bed, daybed, and eventually a full-size bed, as my child grows it gives me peace of mind that at each stage of change I am prepared.
Marisa — Mom of Mikey