"Courage doesn't always roar.
Sometimes courage is the quiet voice at the end of the day saying,
'I will try again tomorrow.'"
– Mary Anne Radmacher
Being a mom is hard. Being an entrepreneur is hard.
We had our first child, Loughlin, just over 6 years ago. I spent the first year just trying to figure it all out. These diapers, or those? Should I go "paci?" He cries all the time without it, though. Is it socially acceptable if my husband and I let him sleep in his lamby swing because, let's be honest, momma gotta get some rest. Fast forward to our second child, Olivia Gray — I had it all figured out this time around. Paci fell on the floor in the middle of Target? Oh well, sweet girl, we pick it up, wipe it on our leggings, and keep rolling through (why is the wine aisle all the way in the back corner in. every. Target. by. the. way?).
Inject forming a new business into the mix — Ollie Gray. My husband and I set out to create what hadn't been done yet (why, I still ask myself that) — a nursing and pumping bra that could be worn all day, no matter what the day brings. Sure, a nursing bra existed. Sure, a pumping bra existed. But what didn't exist is the perfect marriage between the two — a bra that didn't have to be taken off every time I pumped (and sometimes I look back and feel like all I did was pump). After all, I was too busy picking up pacis off of the floor at Target.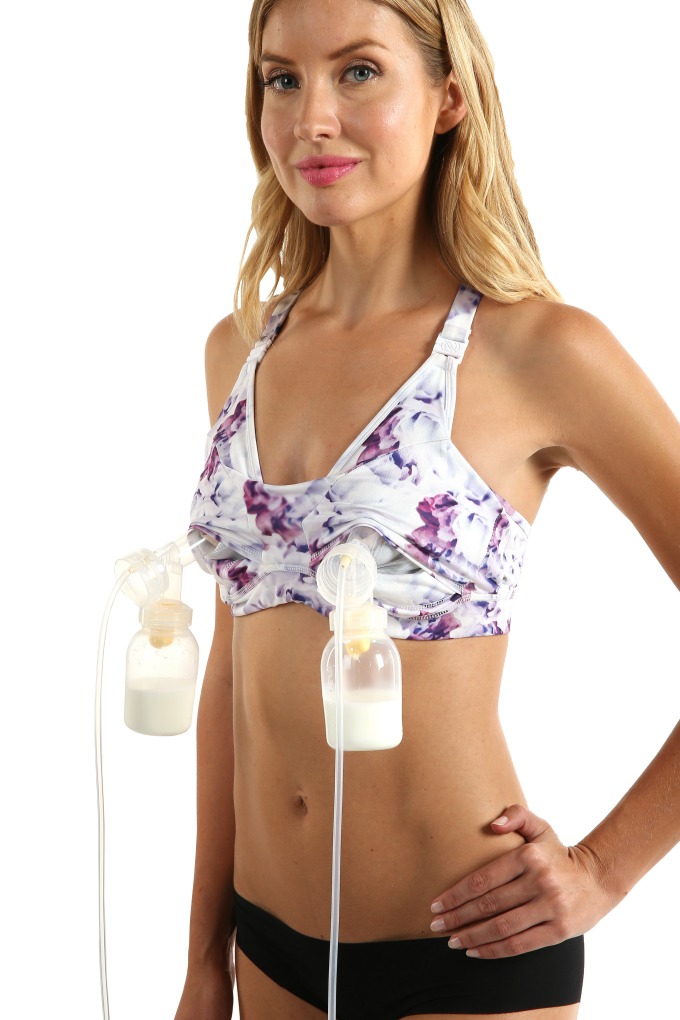 My husband and I had started businesses before — Ollie Gray would be no different, right? He came from a restaurant background and had owned restaurants and helped them get off the ground. I am an attorney and had built up a boutique law practice. This can't be that different?
Kids. That is what made this different. 
While our kids gave me the inspiration to start Ollie Gray (why would I care about a nursing and pumping bra otherwise, after all), I realized two things from their shear existence — first, this time around, I was scared to fail and, second, my luxury of time was gone.
Failure. I woke up in the middle of the night the night before Ollie Gray went live — what if I fail? How am I going to look at our sweet little kids in the eye knowing, "Hey, remember all of those times that I dragged you along for meetings on choosing fabrics and designs instead of going to the park or the zoo? … Remember when you ask me, 'Why is all we ever talk about brassssss?'  'Oh, yeah, it was all for nothing.'" I was scared to fail. Not only did I have my husband to be accountable to, I had these two sweet kids who relied on me for everything. I can't let them down.
A few days later it hit me while I sat outside and watched Loughlin ride and otherwise fall off of his scooter for the ump-teenth time — what a hypocrite you are being, Kate. Life isn't about being scared of failure. So what if I fail? Life isn't about rainbows and butterflies (especially not at our house). We teach our kids these lessons ("Loughlin, if you fall down on your scooter, you pick yourself up, you brush it off, and you keep going!") I was no different. Set yourself up for success. Believe in yourself. And, if today doesn't do it, pick yourself up and do it all over again tomorrow. And if you fall off of that scooter, and you fall hard, you pick yourself up, brush it off, and keep going.
Time. I vaguely remember the days when my husband and I would lay in bed watching (Blockbuster) movies during the day on a Saturday. Our biggest care was who is going to let Hudson (our dog with 100-lives) out in the back, and who was going to answer the door when our food was delivered (paper-rock-scissors settled most disputes). Some days, now, as I carpool around from dance to football to branding meetings, those days float through my head. How are businesses ever built with kids in the picture — they are a full-time business in and of themselves…my life is so busy and chaotic, time is not a luxury that exists in our household. Do I even have the time to start a new business?
I have found, through the years, that the busiest of people are the ones that will make the time. My dad is the hardest worker I know — yes, even at 65. It is in his blood. But, he also will be the first one to drop everything to make the time to pick up Olivia Gray from school when we are running late. Or, stay over until 10:00 pm looking into the best maternity tradeshows for your buck. It's all about management. It is about working hard during the week to play hard during the weekend. It's about working hard for the time that you are given to work hard (which sometimes is just naptime from 12:30-2:30), so you can play hard from 2:30 until dinner. The time is there if you find it. And, if you can't find it today, look for it tomorrow.
Going through this journey, I have to give a shout out to the mompreneurs out there. Girl, it ain't easy. I know first hand. Sometimes it ain't easy to get out of bed and get breakfast on the table (or, in our case, ever. getting. the. two. year. old. to. sleep. at. night.) But keeping at it every day is what counts. And working hard for the time that you do have to dedicate. And, on the days that time just isn't there, pick it all up and try again tomorrow.
Xo
Kate Rech
Kate Rech is the CEO and Founder of Ollie Gray Bras
www.olliegraybras.com