Every year when we get close to spring, I feel the urge to redecorate and freshen up our space! Photos are such a perfect way to mix things up, so naturally Kyle and I had family photos taken of the 4 of us a few weeks back. Because the kids are growing up so fast and they change so quick I don't want to miss a minute in capturing our fun times together. I mean it feels just like yesterday Jake was crawling and now he's totally walking like a big kid.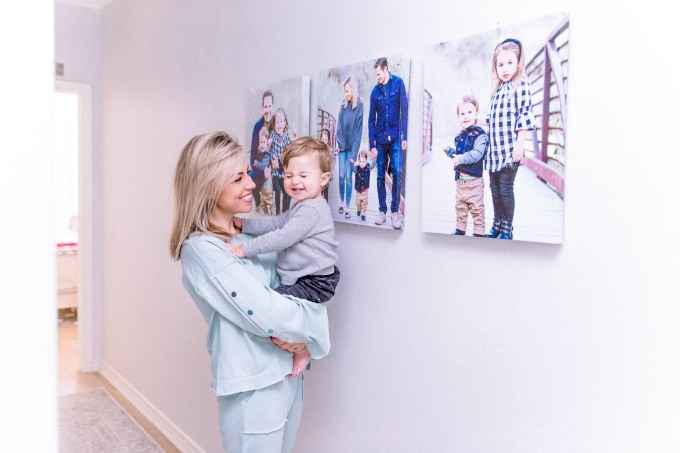 Mixbook
Lucky for me finding Mixbook has literally rocked my world allowing me to capture it all. So of course, I went overboard ordering their custom canvas prints[b] for my home that could bring life to the hallway in our freshly painted upstairs. I love that Mixbook offers a variety of sizes from 10×8 to 36×24 which allots me the ability to create either a gallery wall or just create a symmetrical look. We decided to go with the 20×16 down our hallway to show off our latest family shoot. The quality of the canvases is so high end and really feel like a luxury decorative item. They are built sturdy to withstand any sudden fall or the thunder my kids may bring running down the halls. LOL!
Thanks to Mixbook and their easy photo print process I was able to transfer my sweet family photos into canvas magic. I mean, if I could figure it out while having two kids running around, anyone can! Mixbook is an awesome website that's my go-to for creating family memories. It's simple! All you have to do is upload your photos, select your favorite photo, and choose an option such as books, prints, calendars, or home décor. You can edit your photos by adding backgrounds and graphic stickers to your Mixbook projects, as well. This is a total dream!
I'm already eyeing their custom calendars to make for Kyle from the kids for his next birthday. I plan on using pictures that we took throughout the year and customizing exactly the way I want. Don't even get me started on the gifts for grandmas and grandpas, Mixbook has me swooning.
Being a busy mom of 2 and not having a lot of extra time on my hands, having a website such as Mixbook that is easy to navigate and allows me to shop not only for my home but for all family gifts is a HUGE win! I could literally spend all day creating so much from all the selections Mixbook has to offer.
Since time goes by so fast having lasting memories in the form of pictures is a must. Also, it's good to see my babies smiling, looking adorable, when in the moment they're driving me crazy. Just kidding, but am I? Needless to say, having sweet photos to look at on the days when motherhood is just as rewarding but still taxing definitely helps. That's why I'd recommend Mixbook to anyone! They have me addicted to creating memories!!
See the website here: Mixbook.com
Jessica  — Mom of Sophie & Jake