Like many first time moms, I followed a timeline of when my little one would hit their developmental milestones. When I found my 3 month old daughter chewing on the edge of a table, I decided these timelines were bogus.
While waiting for the 4 month teething mark, I clearly missed the signs of an early teether. Audrey started drooling at 3 months and literally chewed on everything in sight! With her shirts literally drenched in saliva, it was obvious…my child was teething.
It's funny because the discussions of early motherhood are all about the beautiful bonding moments of breastfeeding your child. It's a beautiful moment until the little sucker bites you! The discussions have now changed to getting through the teething stages.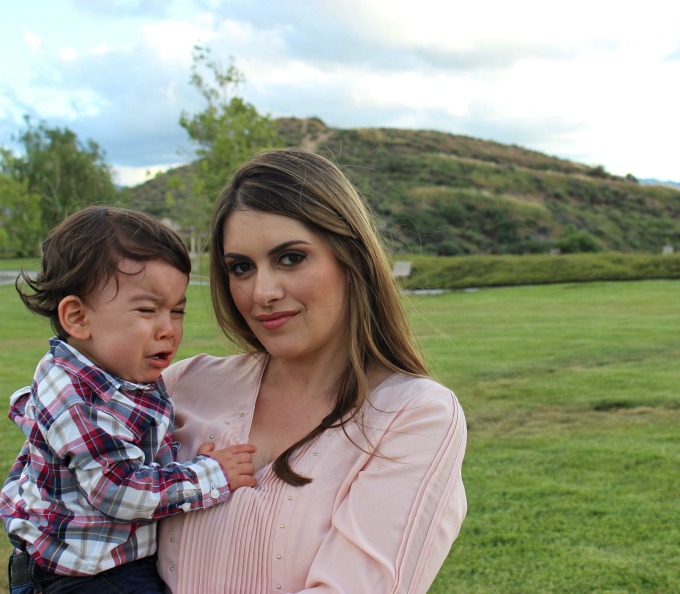 Help! My baby is teething!
Most babies get their first tooth between 4 to 7 months with the bottom two cutting first. Your baby will chew on absolutely anything and everything, and nothing is off limits! This may last for months before the first tooth pops out.
And just when you think you've made it through the hard part, the next round of teething is likely to follow. Hold on tight because the molars will ultimately be the hardest phase of the whole process.
There are several different ways to help your baby during this time. Thankfully, we now have teething necklaces, numbing gels, and countless teething toys that will help ease the pain. There are many ways to help ease the pain of teething, some as easy as rubbing your child's gums with your own finger.
In my household, Sophie the Giraffe has been a big help. Not only is it made of natural rubber, but the giraffes legs are long enough to reach the back molars.
Audrey is absolutely in love with her!
Ultimately every child teethes at their own pace. Who knows, maybe your child may just pop up with a tooth one day.
Comment below to share any remedies that have proven successful for your child's teething experience!
Stacie — Mom of Audrey