Pasta night is a family and friend favorite! But it can be hard accommodating to everyone's different dietary needs, restrictions and preferences of the moment. That's why I'm so glad I found Banza Pasta! It is gluten free, vegan, dairy free, low carb, and you will never guess what it's made of- chickpeas! This style pasta is full of body loving nutrients that will fill you up, not leave you still hungry reaching for more empty carbs.
Banza has double the protein, four times the fiber and half the carbs of your standard wheat noodles. It comes in all the familiar shapes your family is used to – from penne to angel hair, and even mac and cheese! The flavor and texture is just like the real thing; I actually prefer Banza now!
Here is a recipe I threw together while hosting our monthly book club, which you can imagine, is a diverse group of ladies on every kind of diet. I'm proud to report back it was a hit! Trust me, they would let me know otherwise. It is light, lemony, creamy, full of veggies and flavor! Feel free to swap or add in any seasonal veggies! Hope your family enjoys it!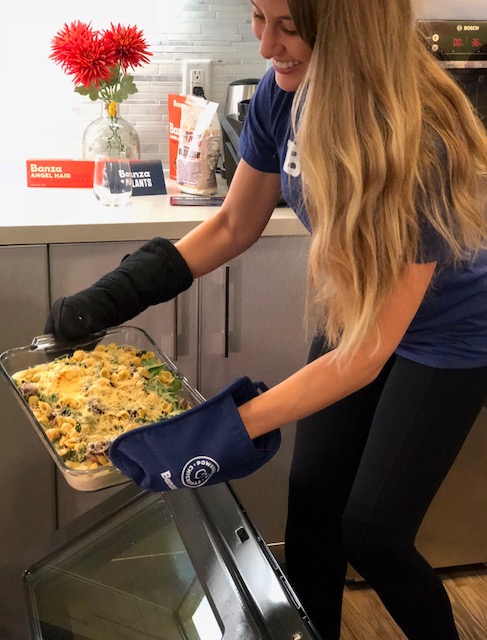 Guilt Free Pasta
Serves 8-10
Pasta Ingredients:
2 boxes Banza Pasta
2 cups sliced mushrooms
1 ½ cups chopped asparagus
olive oil
2 garlic cloves
1 cup chopped basil
1 tub vegan parmesan
Cream Sauce Ingredients:
1 can full fat coconut milk
1 tub vegan cream cheese
¼ cup lemon juice
4 garlic cloves
2 tablespoons nutritional yeast
¼ cup arrowroot powder (I used Bob's Red Mill brand)
Salt and pepper to taste
Step 1
Cook the pasta according to package directions.
Step 2
Sauté mushrooms and asparagus in olive oil and garlic until softened.
Step 3
Add all ingredients for the cream sauce into a blender; add more arrowroot powder to get your desired
thickness. Feel free to adjust the garlic and lemon to your preference, I added more garlic!
Step 4
Combine the pasta, cream sauce, mushrooms and asparagus. Stir in the basil, and pour into an oven safe
baking dish. Top the pasta with vegan parmesan, and broil on high until golden. Keep an eye on it!
Garnish with fresh basil and enjoy!
Leann