I whipped this fireworks bundt cake up last year, and my nieces and nephews went NUTS! It's a quick, easy treat that the kiddos can help with plus it has a fun marbled inside that's super patriotic!
I'm also going to give you two frosting recipes — my tried and true royal icing that my family adores and a non-egg white icing.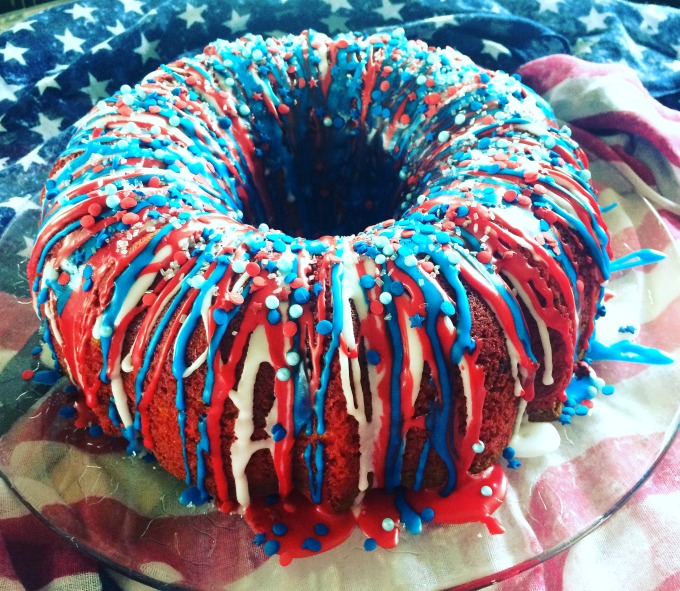 Fireworks Bundt Cake
What you need:
1 box white cake mix + ingredients on box like water, eggs, vegetable oil (Yes, I know it's not from scratch, but this is a quick recipe for all you busy moms and there are great options out there now!)
Red and Blue food coloring
2 cups powdered sugar
1 Tbsp milk
1 large pasteurized egg white*
2 tsp almond extract
Assorted red, white, and blue sprinkles
Bundt pan
How To Make A Fireworks Bundt Cake
Heat oven to 350 and spray pan generously (using butter is cool but may brown the outside of your cake)
In large bowl, beat cake mix to instructions. Then in 2 smaller bowls, place 1 cup each of batter. Mix in your desired amount of food coloring to get a rich red and blue. (a tsp should do it)
Pour your red batter into the bottom of the bundt pan. Then pour the white into the middle of that red ring. Then the blue into the white ring. Don't sweat if it's not perfect, the marbling will be beautiful no matter what!
Bake for 40-45 minutes or until a toothpick come out clean when poked into the deepest part of the cake. Cool for 10 minutes, then place plate on the pan and flip! You want to make sure the cake cools completely before icing so leave that baby on a cooling rack for about an hour.**
For your icing, crack your egg carefully and separate out your egg white. Pour that into the bottom of your mixer. Add almond extract. Start slowly adding sugar and mix thoroughly. You'll need the milk to add gradually if your mixture is getting too thick. You want this icing nice and fluid so it will drizzle easily. Too thick, add more milk! Too runny, add more sugar!
Separate the icing evenly between 3 bowls and mix in your red/blue food colorings. Some people will use a spoon to drizzle on the icing but my preferred method is to transfer the icing to ziploc bags, seal, and cut the corner. This also helps little hands to squeeze on the icing.
Squeeze out your white icing then your colors. The top of the cake will be red so using the white icing helps to pop the other two colors. Then sprinkle to your heart's content!!
Enjoy!!
*Some people are weary of eggs whites and salmonella and other food born illnesses so you want to make sure you buy pasteurized eggs. I have done this recipe so many times and haven't ever had anyone get sick BUT if you're nervous, see below for another great icing recipe!!
Non-Egg White Icing Recipe
2 cups powdered sugar
4-5 Tbsp water
4 tsp light corn syrup
1 tsp almond extract
Mix the sugar and water together. Slowly add your corn syrup and extract. If it's too thick, add more water. Too runny, add more sugar!
**In a rush? Pop that cake in the freezer! That's my go to when needing to cool in a dash!
Caitlin — Mom of Odin