Sometimes I think New Year's Resolutions get a bad rap. And I get it, I really do. We've all made big resolutions and then found ourselves abandoning them by the second week of January. But I think there can be real value in taking the time to set realistic goals, especially when you are working towards things together as a family. Here are a few ideas to help you get started creating New Year's resolutions with your family.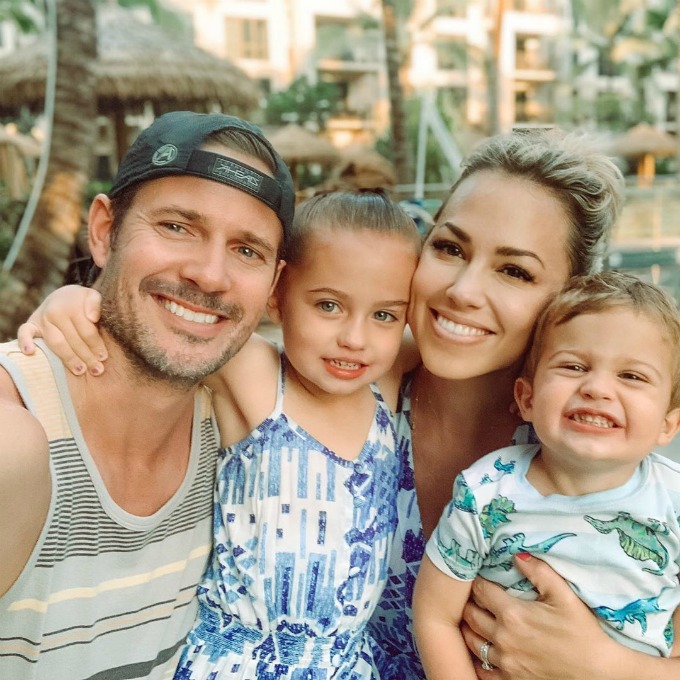 Creating New Year's Resolutions With Your Family
If your kids are little, like mine are, the idea of a resolution might be a little outside of their grasp. That's okay. You can still sit down together as a family and talk about the things you want to accomplish in the upcoming year. Keep it simple for younger kids. Have a few ideas ready that you can offer your kids to help them come up with goals of their own. You can even share a goal you are setting for yourself and how you are going to track your progress.
Helping Kids Set Their Own Goals
A goal for younger kids could be as simple as spending 10 minutes tidying up their bedroom every evening before bed or doing one kind thing each day (helping a sibling, clearing the dinner table even when it's not your night to do it, making a card for a friend). You might want to set up a sticker chart or other means of tracking their progress so they can keep the resolution top of mind and stick with it all year.
For older kids, you can have them write down some things they want to work on in the coming year to help them identify resolutions. This is a great time to help reinforce the lessons you are already teaching them about personal responsibility. I wouldn't recommend goals around food or weight loss for kids, but health goals like drinking the recommended amount of water each day or spending time each day or week practicing a favorite sport can be positive ideas. If they tend to procrastinate about schoolwork, a great goal might be to set up a system around homework that helps them to be more productive.
But goals don't just have to be about health, school, or chores. Add in some fun goals, as well. Maybe your kid wants to read a special book series, or visit a National Park, or start a coin collection, or build a business selling friendship bracelets. Setting goals around things like this can help them to work toward something during the year and have fun doing it!
Choosing Goals For The Family
A great way to really model goal setting is to create goals that the family will do together.
Prioritize Sleep: Instead of just instituting a bedtime for the kids, try setting a bedtime for everyone in the family. Let your kids see you prioritizing sleep just like you tell them to do – while every member of the family might not have the exact same bedtime, you can talk together about how you are doing with following the time for lights out that you have set for yourself.
Turn off the Screens: Phones, tablets, computers, televisions. There are so many screens in our homes. It's easy to loose hours to these devices. Set a goal around screen-free time. It could be one day a week where you focus on screen-free family time. Or maybe you want to set up specific times during the day when people can use devices – try to set this time early enough in the day that everyone is unplugged from their electronics at least an hour before bedtime to help foster good sleep habits.
Get Active Together: Make a list of fun ways you can get active together this year – riding bikes, going on hikes, swimming, rock climbing, training for a race. Try new things until you find something that your family really enjoys doing together.
Make Time for Reading: Reading together is a great way to bond as a family. Set goals around how many books you want to read in the new year and set up time to read together each week to make sure you reach that goal!
Set Up Regular Family Meetings: If you don't already have regular family meetings, this is great time to start! You can spend that time working out your schedule for the week, sharing news, and even talking about your goals as the year progresses. Family meetings don't have to be hours long, even 15-30 minutes each week can become an important touchstone for families to intentionally connect.
Have you tried creating New Year's resolutions as a family? Share them in the comments. I'd love to read about the goals you are going to accomplish this year.
Jessica  — Mom of Sophie & Jake