When life gives you dyed eggs…make egg salad!
This is the perfect time of year for egg salad as so many people have left over hard boiled eggs from Easter. I like to make mine open faced with some yummy arugula to add some punch to the flavor!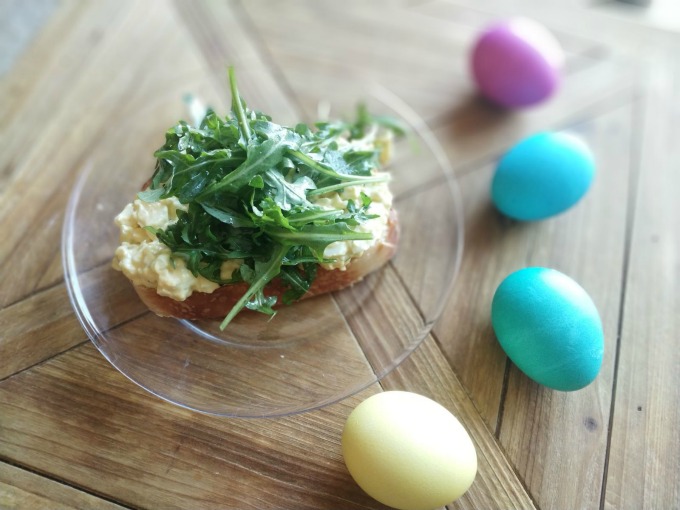 The Best Egg Salad
What you'll need to make egg salad:
Hard Boiled Eggs
Mayo
Mustard (I use yellow but you can get creative with any of your favorite mustards!)
Dill Relish (make sure it's not sweet relish)
Fresh Dill
Cracked Pepper
Garlic Salt
French Bread
Butter
Arugula
Olive Oil
Lemon
How To Make Egg Salad
Shell your hard boiled eggs.
Tip: Gently crack and roll your eggs to help the shells come off easier. Picked this tip up years ago with a chef friend of mine!
Cut in to halves, placing the yolks into a medium bowl. Mash your yolks with a fork so they are broken up nicely into small pieces. For the mayo, mustard, relish it's all according to taste. Add all three to you your liking and get a nice smooth consistency with your mixture—maybe you like more mayo, maybe you love mustard—go nuts! Then chop your egg whites and add to the mixture. Chop your fresh dill—no stems—and add to the bowl. I then give several cracks of some pepper, but again, do this to taste. Give it all a nice stir.
Slice your french bread nice and thin. Butter both sides then sprinkle with a pinch of garlic salt. Toast your bread in a non-stick pan on the stove.
Grab a few handfuls of arugula and place into a medium bowl. Squeeze a quarter lemon over it and drizzle some olive oil to coat the arugula. Crack some pepper and salt over the salad.
Now plate! This is always a crowd pleaser and has that fun lunch out at a cafe feel.
Enjoy!
Caitlin — Mom of Odin