Hi sleepless moms! I absolutely had to share my Grandma's signature chocolate dessert. She used to make it every year for us when she'd come to visit us in California from her home in Kansas. It's always a crowd pleaser, and most importantly, incredibly easy to make. Like, ridiculously easy.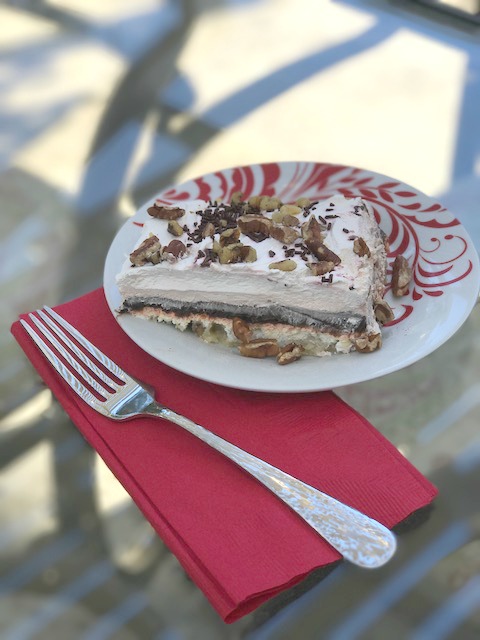 Grandma's Chocolate Dessert
Here's what you need to make my grandma's chocolate dessert:
1 cup of flour
1 stick of butter
½ cup chopped pecans or walnuts
8 oz softened cream cheese
1 cup powdered sugar
1 carton of cool whip
2 small boxes of instant chocolate pudding
3 cups cold milk
Preheat your oven to 350 degrees and grease a 9×13 in. baking dish.
Mix together softened butter, flour, and ½ cup chopped nuts and press into greased pan.
Bake for 20 minutes and set aside to cool.
Next, mix together cream cheese, powdered sugar, and ½ carton of cool whip and spread over cooled crust. Then, whisk the 2 boxes of pudding together with milk for at least 2 minutes. Pour over cream cheese mixture, cover, and place in refrigerator for 1 hour.
Once pudding is solid, spread the rest of cool whip over and top with extra nuts and/or chocolate sprinkles! This chocolate dessert stays well in refrigerator for up to a week, but it's guaranteed you won't have any left to store!
Enjoy!
If you gave it a try, let us know how you liked it in the comments below!
Chelsea Hall — Aunt to Sophie, Audrey, and Jake