The transition from holiday comfort foods back to a more nutritious diet is always a tough one for me. I just want to keep eating delicious cookies which may not be the most practical or balanced diet…especially while breastfeeding! This recipe for chicken asparagus pasta does a great job of meeting my cravings while also serving up lots of healthy nutrients to get me back on track.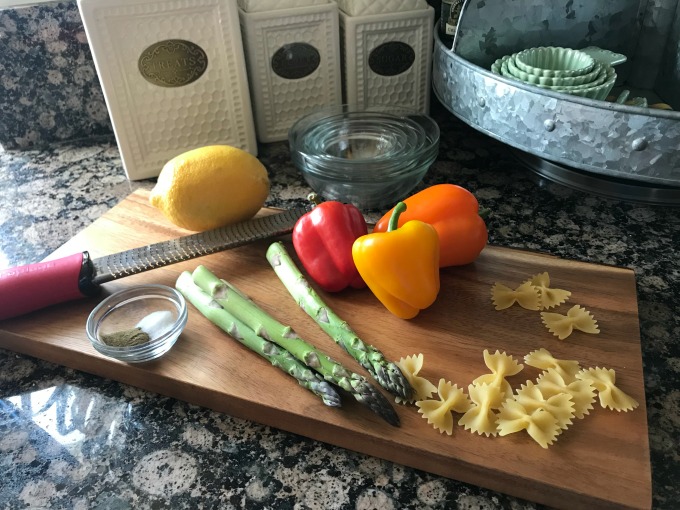 Chicken Asparagus Pasta
Chicken Asparagus Pasta Ingredients:
8 oz of your favorite pasta*
1 cup julienned sweet peppers**
1 Tbls canola oil
½ lb boneless skinless chicken breasts, cut into ¼ inch pieces
6 green onions chopped
½ lb fresh asparagus, trimmed and cut into 1 inch pieces
¾ cup chicken broth
1 ½ tsp fresh lemon juice
½ tsp salt
½ tsp dried thyme
½ tsp grated lemon peel
2/3 cup frozen peas, thawed
2 tsp cornstarch
1 Tbls water
2 Tbls light sour cream
Shredded Italian cheese to taste (I like an asiago/parmesan mix!)
How To Make Chicken Asparagus Pasta
Cut and prep all of your ingredients while your water comes to boil.***
Once your water is ready, cook your pasta according to the package instructions. As your pasta is cooking, in a large skillet, sauté your peppers in oil for 3 minutes or until crisp-tender over medium heat.
Stir in the chicken, onions, asparagus, broth, lemon juice, salt, thyme and lemon peel. Cook for 1 minute or until asparagus is crisp-tender. Stir in peas. Sauté for 1 minute or until heated through.
Combine cornstarch and water until smooth. Stir into your pan. Bring to a boil and continue to cook and stir for 1-2 minutes or until thickened and chicken is no longer pink.
Remove from heat. Stir in sour cream.
Your pasta should be finished at about the same time. Now you can combine the pasta (after strained) and sauce in a serving bowl. In our house, we're a "fix your plate in the kitchen" family, so I just dump my strained pasta into the pan with the sauce.
Top with as much cheese as your heart desires and maybe a few cracks of pepper! This yields 6 servings and is great as leftovers.
*You can use any pasta you like! I like the quinoa pasta as it's a little healthier then your typical run of the mill enriched white pasta.
**Julienned means to cut into thin strips (I had to look it up when I found this recipe!)
***I love using my nesting bowls when prepping all of the food. Then, when it's action time, I feel like I'm on one of those cooking shows dropping in all my ingredients!
Enjoy! And please, let us know how you like it or if you have any post holiday favorite recipes!
Caitlin — Mom of Odin