Halloween is going to look different this year for most of us without the traditional trick or treating and parties that usually mark the night. But that doesn't mean that we can't have lots of spooky fun. A family movie night is a great way to have Halloween fun at home. If you have older kids, A Babysitter's Guide to Monster Hunting, dropping on Netflix October 15, is going to be a great watch.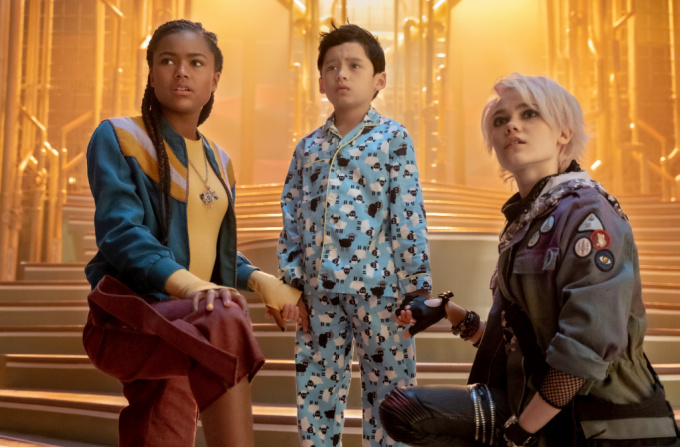 A Babysitter's Guide to Monster Hunting
Kelly Ferguson (played by Tamara Smart) is a high school freshman who takes a babysitting gig for Jacob Zellman (Ian Ho) on Halloween night. Things don't go as planned, and Jacob is kidnapped by monsters and a Boogeyman known as "The Grand Guignol" (yes, that's Tom Felton!).
Kelly is quickly introduced to an international secret society of babysitters who protect kids with special powers from monsters. She teams up with the group that includes a tech genius, creature expert, and a potions master to defeat "The Grand Guignol," glamorous witch, Peggy Drood, and a legion of mysterious monsters.
Check out the trailer:
This movie is based on the first book in Joe Ballarini's A Babysitter's Guide to Monster Hunting series.
Kids will love this Halloween adventure and parents will appreciate the messages about working together to overcome fears.
Check it out on Netflix on October 15.
Jessica  — Mom of Sophie & Jake