I absolutely loved my baby's nursery and the perfect crib bedding to match! If only I had known that little-by-little, pieces to the fancy crib bedding retire a lot sooner than I had anticipated. First to go, the sheets. Although they were matching, they were not comfortable. Second to go was the comforter. As adorable as it was, it just wasn't practical, too heavy and not machine washable. Lastly were the crib bumpers. Not even a year and a half into the baby game, and I'm out of crib bedding!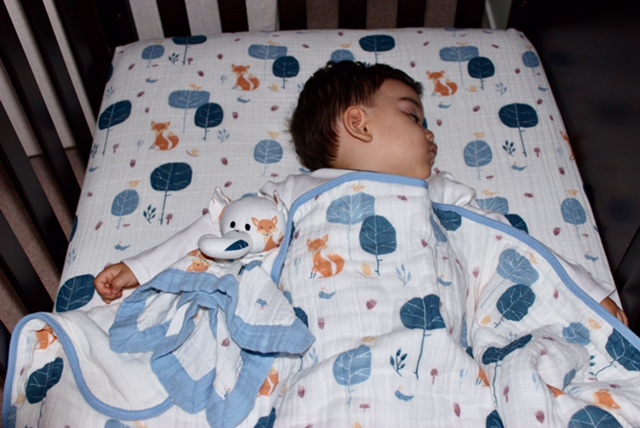 aden + anais
Since day one of bringing my baby home, one fabric has stayed true — muslin swaddles from aden + anais. Breathable, versatile, and machine washable! One simple swaddle has been used as a swaddle, tummy time blanket, stroller cover, changing table cover, burp cloth, nursing cover, and now that my baby is older I use it as a simple blanket.
It is nice to know that I didn't have to look further then aden + anais to make a cozy transition from infant bedding to toddler bedding. Soft as a mother's touch, the fabric that touches my baby's skin is breathable fabric keeping him warm in the winter and cool in the summer. I found into the woods matching organic crib sheet, organic dream blanket, organic changing pad cover, swaddles and even a organic musy mate lovely!
As a mother, it is important to have favorite baby brands and for me, one of my favorites is aden + anais. Go to adenandanais.com to check out the latest on swaddles, blankets, bibs, and clothing!
Marisa — Mom of Mikey