Wow. What a different world we find ourselves in these days. As we hunker down at home during this unprecedented time, being in an organized space is even more important. Anxiety levels and stress are heightened when we are surrounded by clutter, and we all could use a little less stress. While most of us are spending this time at home with our families, it is the perfect time to get them in on the organization and decluttering, too.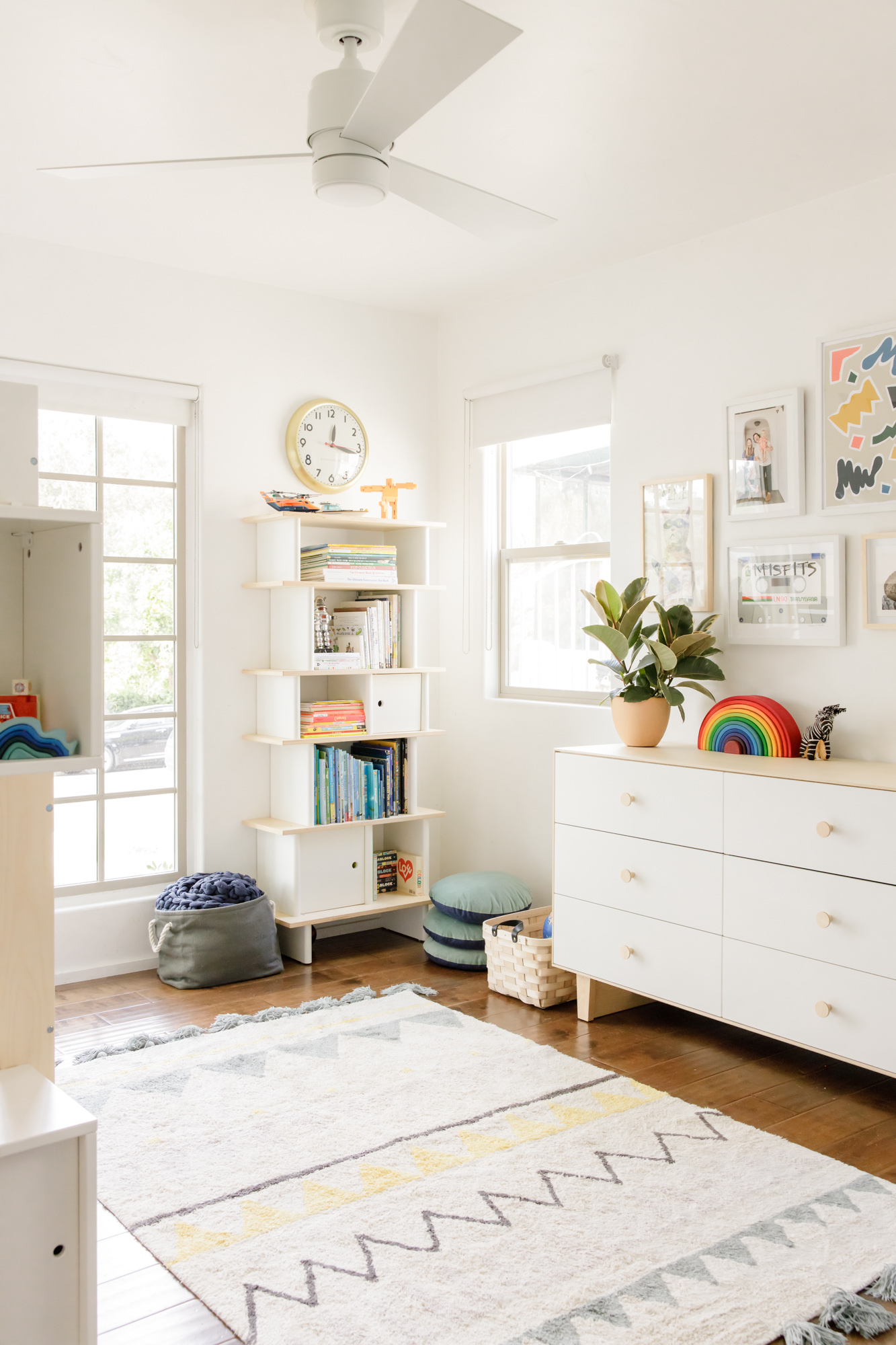 It's no secret that somehow our kids' rooms can go from clean to looking like a tornado hit in the blink of an eye. While we can't as easily control our children's whirlwind, we can control the organization within their rooms. Let's be real, there's probably some Goldfish hidden in their drawers, and dinosaurs behind the bed, too. By eliminating excess items and organizing the space within their bedroom, it's less likely that their toys and snacks will find homes other than where they belong.
9 Tips to Help You Get Organized with Littles
You might already do some of these, but by doing each task on this list, you are sure to stay more organized, and even save some time! As parents, we need to work smarter, not harder, and some of these tips are as simple as taking one step out of your daily routine.
For The Whole Family
1. Make a designated space for everything (kids backpacks, diaper bag, lunch boxes, shoes – this way everyone knows where everything goes, and you don't waste ten minutes in the morning searching for things). Kids love organization as much as grown ups do! Get in a routine of having them put their items into the designated spaces when they come home after school (or when they've finished home school).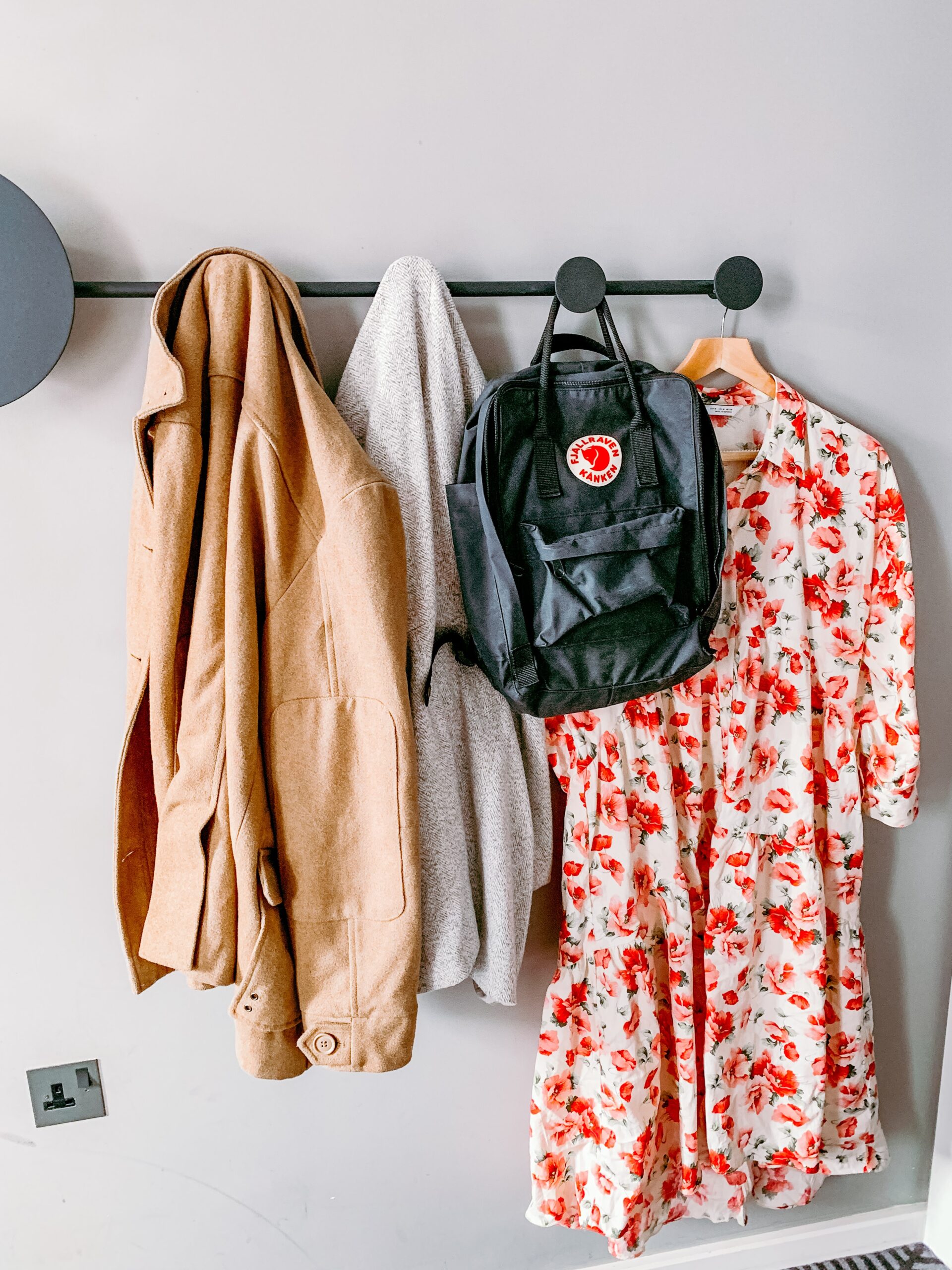 2. Divide up household chores. Decide who will do what, and when. Here is a good resource for age appropriate chores for little ones. And don't forget your husband!
3. Create a donation station – a bin in the garage or a tote bag in the bottom of a closet – then the moment you come across something you no longer need or use, it goes in the donation bin. Whenever it gets full, take it to your local shelter or donation facility! Keep the clutter out of your way.
4. Create a snack station for your little ones. We love using a divided turntable and letting our kids choose 1-2 snacks. This lets them feel in control, and also allows you to monitor what they are choosing based on what you include in your turntable!
For the Kid's Rooms
5. Label everything! Label label label!  Especially in kids rooms. You can label their drawers, their toy bins, anything! I love to label everything in my kids' rooms. When they're little, it helps them recognize words and learn to read. When they're bigger, it makes clean-up a breeze and there are no more excuses of not knowing where things go.
6. File-fold all the clothes in their drawers. It's so easy to do, allows you to see every item of clothing, and creates about 30% more room in each drawer. Note: If your kid likes to help pick out their own outfits, this makes it easier to keep their drawers tidy because they can see their options and won't be digging through! If you don't know how to file fold, watch this tutorial – we promise, it's a game changer!
7. Use drawer dividers, baskets, even empty shoe-boxes to keep small items from spilling over. Think socks, headbands, tiny hats etc.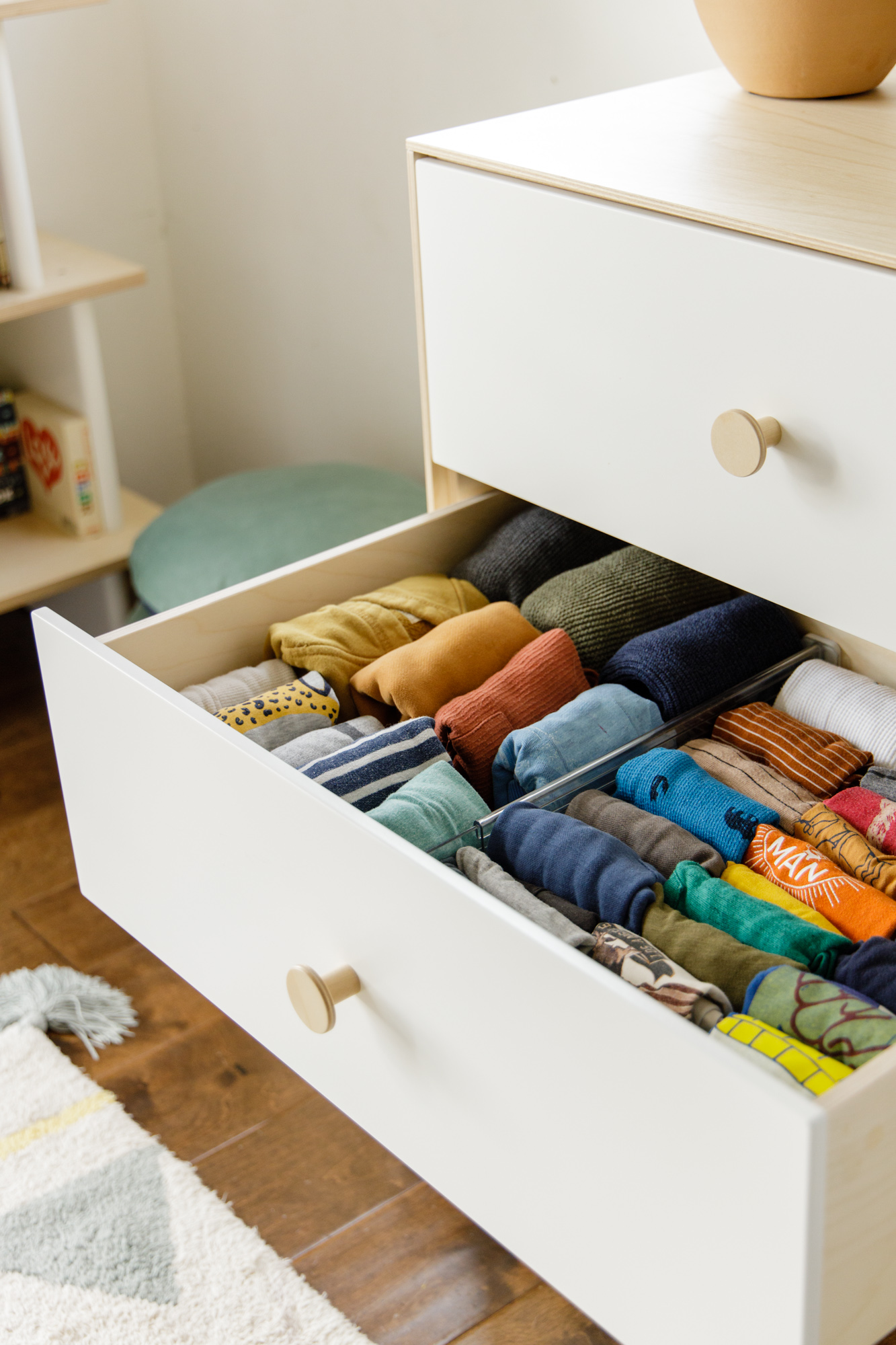 8. Keep their visible toys to a minimum. Children are just as overwhelmed by clutter, if not more so, than adults. When they see hundreds of options, they'll just choose the same you over and over again. And we all know the problem will grow with the next birthday or holiday and a new influx of stuff. Keep some of their toys, and presents, aside and rotate them out. This way you reduce the feeling of overwhelm, and your kids feel like they always have new things to play with.
9. Ask your kids what they like! When you involve kids in decisions, they are more invested in the result. Ask them which toys, books, or items of clothing they don't really love and they'll tell you!
If everything in their room has a spot where it belongs, it will be much easier to tidy up the chaos quickly and efficiently! Not to mention that getting out of the house will become less of a time consuming task if you can grab what they need from their beautifully organized drawers and go!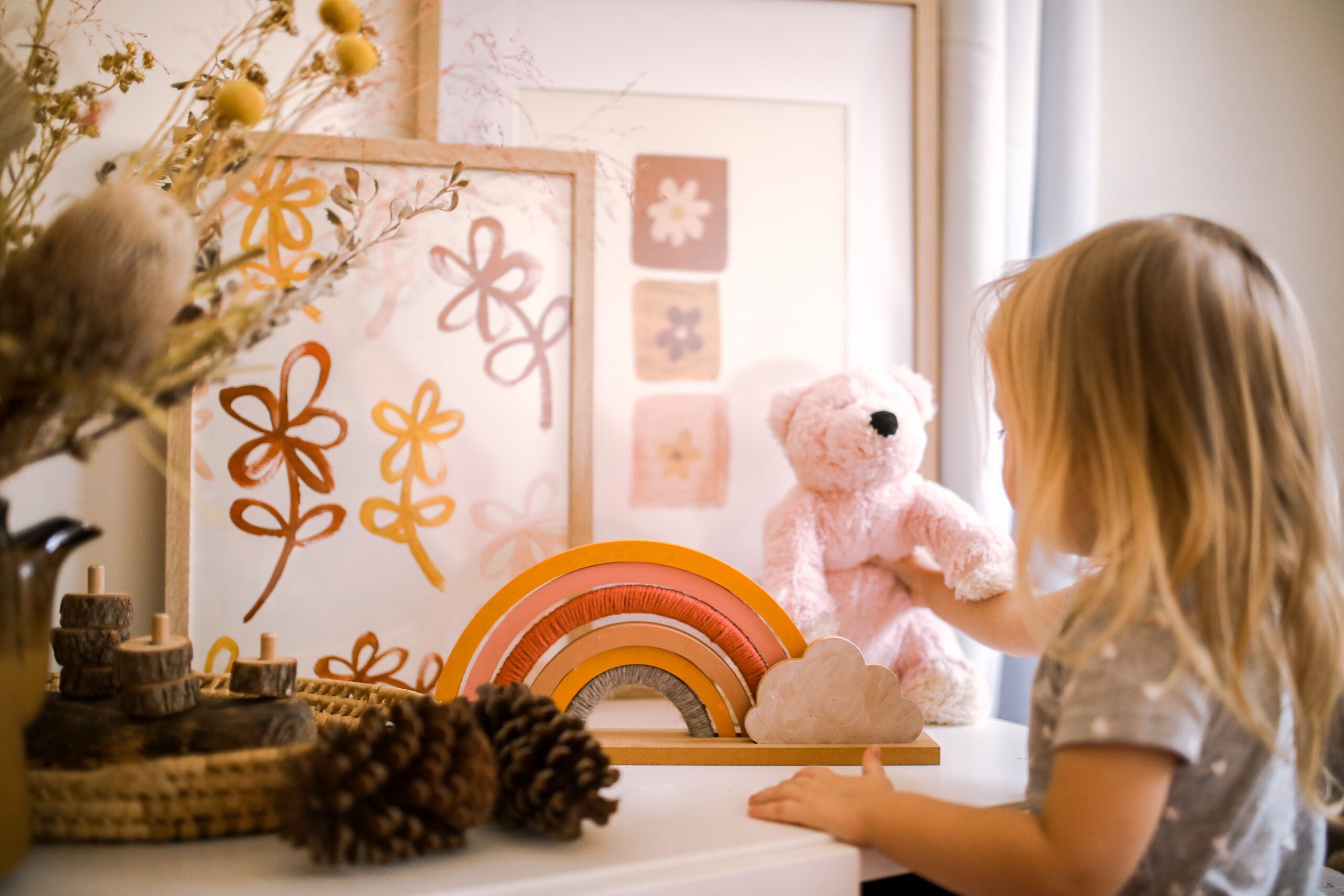 Sending you lots of love during this time, stay safe at home! If you want more organization tips during this downtime, we will be posting to our Instagram with daily tips.
Guest Writer – Elsa Elbert, professional organizer at Composed Living